VENDING YELLOW PAGES SUPPLIERS DIRECTORY© Vending Machines & Wholesale Products Suppliers
THE VENDING YELLOW PAGES SUPPLIERS DIRECTORY©
VENDING MACHINES AND PRODUCTS SUPPLIERS by Category


Includes: Manufa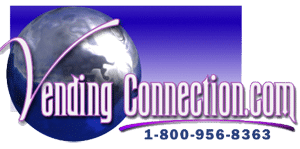 cturers and Distributors of Vending Machines, Wholesale Vendible Products, Software Technology & Services for your vending machine business' success! You will find VENDING MACHINE PRODUCT SUPPLIERS  of all types, to help you with your vending machine business! With over 200+ categories. Please click on the link of your choice, or use search box at top and type in key words and click search to find correct webpage.
POST YOUR COMPANY to Get New Business!
COFFEE & TEA SUPPLIERS
    Coffee Equipment, Dispensers
    Coffee Product Supplies
COIN COUNTERS, Coin Sorters
COIN MECHANISMS, Coin Currency
CONCESSION Food Trucks
CONCESSION Trailers
CONCESSION Ice Cream Trucks
CONDOMS

CONSULTANTS FOR VENDING
    Accounting Services
    Legal Aid
    Tax Information
COPIERS, Fax, Printers
DEBIT CARDS, Smart Cards
DISTRIBUTORS for Machines
DISTRIBUTORS of Products
DRINKS
(Wholesale Drink Suppliers)
DRINK MIXES
ELECTRICAL PARTS
FLAT VENDING
FOOD PRODUCTS & FOODS
    Brokers
    Condiments
    Deli Foods
    French-Fry Vendors
    Frozen Foods
    Food Service
    Ice Cream Products
    Low Carb Foods
    Gluten Free
FRANCHISES FOR VENDING
FULFILLMENT
HONOR SNACK BOXES
INSURANCE
INTERNATIONAL Suppliers
INTERNET ACCESS TERMINALS
KEYS,LOCKS,SECURITY SYSTEMS
KIOSKS, touch screen, self service
LABELS for Vending Machines
LAUNDRY COIN OP EQUIPMENT
LEAD SOURCES, Lead generation
LEASING, FINANCING Equipment
LEGAL AID ASSISTANCE
LOCATOR Location Services
MANUFACTURERS
Machine Manufacturers
Metal Framing Mfgrs
Product Manufacturers

MASSAGE CHAIRS
MEDICAL, OTC (First Aid products)
MERCHANDISE, RETAIL
MICRO MARKETS
MISCELLANEOUS VENDING
    Alcohol Breathalyzers
    Cell Phone
    Condom Dispensers
    Massage Chairs (Coin Op)
    Medical, First Aid
    Newspaper racks (coin operated)
    Scales (coin operated)
    Specialty Vending Machines
VENDING SUPPLIERS DIRECTORY by category
Post your company on The Vending Yellow Pages©
Only $25 per month Your Company listing will appear within 24 hours- Get Results Fast!
Contact VendingConnection.com at: 1-800-956-8363  Contact Us
 Considering Vending? | FAQs | EBooks | Routes for Sale | Classified Ads | Newsletter | Technology News | Home Page |
VENDING YELLOW PAGES DIRECTORY OF SUPPLIERS©
VendingConnection.com, Copyright 1996-2016. All rights reserved. Privacy Notice.
MORE VENDING YELLOW PAGES DIRECTORIES
---