How to Start a Bulk Candy Business Ebook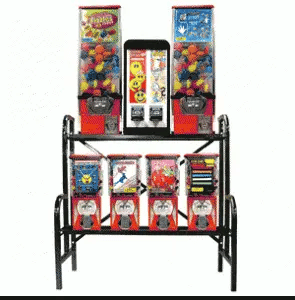 Are you ready to start your Bulk Gumball and Candy Vending Business?
The Bulk Vending Ebook©
ISBN# 0-9667065-2-8
Take it from a business that knows Tricks and Tips on how to start and operate a bulk candy & gumball company right! Find out the Pros and cons of owning a bulk candy vending business.
NOW UPDATED!  Only $25 order now…
delivered direct into your email!
"How to Start Your Bulk Candy & Gumball Vending Business" Topics include:
The Pros and Cons of bulk vending
Candy product and gumball vending
Bulk product choices
New interactive gumball vending
Charity Sponsorship
FREE Vending Industry Newsletter!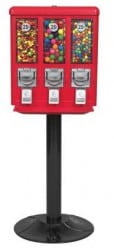 Vending Connection has years of experience and expertise packed in this Bulk Candy Vending Machine E-book and offered to save you time and money to get your business profiting as soon as possible. Don't accept others claims, this is right from the authority in vending!
This 39 page Bulk Vending Ebook contains valuable information concerning:
The Pros and Cons of Bulk Vending, Candy Product and Gumball Vending, Bulk Product Types, New Interactive Gumball Vending, Charity Sponsorship, Paying Commissions to vending locations, Expenses, Buying Products, Products that you can Vend, Special Tips, Record Keeping, Your Vending Budget, Route Service Cards, Location Evaluation, Location Call Script, Locating Companies, Charities, Types of Locations,Start your own Bulk Vending Business today – the Bulk Vending Ebook for only $25!
Sample Vending Service Contract, Route Management Software, Financing or Leasing, Insurance, Licensing, permits and more. Bulk Vending Suppliers Contact Listings, Quiz for Small Business Success, Vending Terms Dictionary.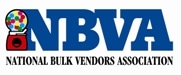 This is the Ebook for you!! READ THIS FIRST – If your are wanting to start your own SUCCESSFUL bulk candy & gumball vending machine route!
Don't forget to list your new vending company on the Vending Yellow Pages – Operators Directory
---
Looking for Bulk Candy Product Suppliers? see The Vending Yellow Pages Suppliers Directory!
Also see: Bulk Candy Machines | Bulk Products Wholesale | Candy | Nuts |
Testimonies of Happy EBook Customers:
"I am happy to say I received the second email PDF attachment successfully. The file is complete, and I am looking forward to reading the entire startup kit's information. After glancing at the table of contents, I immediately realized your kit is good. The information you provided will certainly help me be successful in my new endeavor. I thank you for the second effort that made sure I received your valuable product." —-v/r Ohio Merchant
"Hi, I purchased two of your ebooks (start up and buyers guide)….very helpful, thanks. I am going to purchase a snack/soda/coffee route, it looks real good and I am getting it for 81% of gross annual sales." —-Thanks, Cal