ATM Machines for sale, ATM Machine Suppliers, ATM Kiosks
ATM MACHINE DISTRIBUTORS, ATM SUPPLIERS and more about the ATM Machine business! Please contact them directly for further information. The atm supply companies are listed in alphabetical order by company name.
Also see: ATM Supplies, Internet Access Kiosks, Kiosks,
POST YOUR COMPANY-Get New Business!
Company/ Website
ATM Machine Company Description
Photo/Logo
Contact Info
ATMBIZCENTER.com is an ATM Business Resource Center– On our website ATMBizCenter.com you find all you need to know about how to run an ATM Business Kiosks, ATM Supply Companies, Banking, Technicians & Repair Parts, Security Armored Trucks available, ATM Industry News, Trade Shows and much more! Buy or Sell New & USED ATM's too… watch us a we grow- as we help you succeed in your Automatic Teller Machine Business Resource Information!

ATMmachine.com has been online since 1998. We service the entire USA. Almost anyone can own an ATM machine in the USA. If you own or run a business, remember that an ATM can reduce your monthly credit card processing fees by offering customers a machine for cash withdrawals.
ATM-SMART is a fully featured software product that manages the flow of cash from the bank to the terminal, back to the bank. ATM-SMART uses internal checks and balances to ensure that your ATM terminals have enough cash to handle usage until it is scheduled to be loaded again, while not having an over abundance of cash that can be used in other parts of your business. ATM-SMART integrates a service module to handle all the maintenance of your terminals, which will help maintain the highest efficiency of your terminals and your operation. The ATM-SMART software also includes a Customer Relationship Management module to handle obtaining new customers and maintaining your current customers. Overall ATM-SMART is a single solution for your business, which integrates your cash management, service, and CRM together.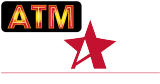 ATM USA specializes in full-service ATM placement, ATM machine sales and processing, ATM rental and much more. We can sell, install and service ATMs in all 50 states for businesses of every size, in any industry.
KT Technology develops and design touch screen kiosk terminals for businesses seeking self-service solutions as part of their marketing strategy. Experienced technicians and designers provide complete turnkey solutions from concept to delivery on time and budget.
USA Technologies has proven 15% ATM vend sales, boost greatly reduce vandalism. Go cashless, as well as monitor your ATM machine from your office.
Phone: 800-633-0340
Fax: 610-989-0344