DVD Vending machines for sale, DVD rental machine suppliers, DVD video Kiosks
Also see: Amusement Distributors, Amusement Games,
Company / Website
DVD Vending Machines, DVD Kiosks
Photo/Logo
Contact Info
ELO Media introduces the newest, most innovative way of generating revenue using the latest automated entertainment medium. It is a fully automated DVD vending machine called DVmatic.
Technik Mfg, Inc is a competent manufacturer of phone card vending machines and card vending kiosks, custom vending machines. Technik is organized to build your vending machines to SELL WHILE YOU SLEEP. Phone cards, booklets, CD vending, compact discs are just a few products our machines vend…Ask Yourself, "What can we vend for you?"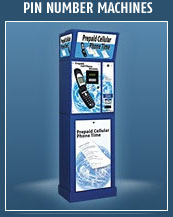 TelEasy Corporation are Manufacturers, Software Developers of Bill Payment, DVD vending, Check cashing, Newspaper kiosks, Photo Kiosks and Internet Terminals.
VIDEOMATIC offers a range of automatic dispensers for the rental of VHS, DVD, videogames etc. and sale of a variety of products.