Internet Access Terminals, Internet Kiosks for sale, Public Internet Kiosks Suppliers
INTERNET KIOSK Machine Distributors, INTERNET Machine Suppliers! Please contact them directly for further information.
Also see: Vending Kiosks, ATM Supplies, ATM Machines for sale, DVD Machines, Photo Booths, Touch Screen Vending,
POST YOUR COMPANY-Get New Business!
Company /Website
Internet Kiosks Suppliers Description
Photo/Logo
Contact Info
KARAN is the leading company in application automation and Vending machines in Iran, introducing new automation solutions for classic processes, beside manufacturing. Standard Vending machines makes KARAN a reference for providing any vending solutions. By customizing vending machines for the country terms and cultures we are going to expand markets and spread out automation systems usage. KARAN cooperates with device and machine suppliers all around the world to produce the best product the suits customer needs.
Kiosk Vending – 21st century Kiosk Vending Machines featuring exciting new revenue producing applications. These complete products offer profitable business opportunities.
Phone: 800-509-5471
Tel: 303-466-5471
Fax: 303-466-6730
National Electronic
Technologies, Inc.
Videonet currency operated public access Internet terminals and Web based pay phones.
Technik Mfg., Inc. is a 25 year manufacturer of custom vending machines, custom kiosks and kiosk components.
Located in the heart of the U.S. Technik Mfg. has produced over 46,000 machines shipped to 49 different countries.
With the ability to reliably vend many products you must ask yourself, "What Solution Can Technik Provide For You?"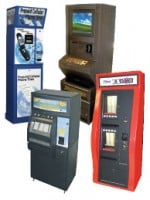 Also see: Internet Access Terminals, ATMs, Vending Machines, DVD Machines, Cashless Vending, ATM Machines, POS Terminals, Phone Card Kiosks, Equipment Locators, Vending-News. Home,
POST YOUR COMPANY-Get New Business!