Bulk vending machines for sale, Bulk Gumball Candy Vending Machine suppliers!



Click here to post your ad!
Company/ Website
Bulk Vending Machine Equipment Suppliers
Photo/Logo
Contact Info
A&A Global Industries is the world's largest supplier of vending machines and supplies. In business for 70 years, A&A supports the following product categories:  gum, candy, plush and prize kits, superballs, toys, novelties, capsules, machines, stickers, temporary tattoos, and innovative POP displays.
Candy for a Cause™ Pink Ribbon Program is the fastest growing charity vending program. Make money while making a difference with laminated corrugated or clear plastic mint, lollipop, or bulk candy displays. We also carry matching labels for bulk machines, all with protected territories. www.candyforacause.org (contact) 716-873-7003 Candy for a Cause.
Cardinal Distributing – "Your Bulk Vending Warehouse. Everything for the bulk vending operator! We are a real bricks-and-mortar company with over 100,000 square feet of bulk vending machines and supplies ready to ship to you immediately. All vending machines and products at wholesale prices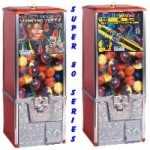 We are manufacture the NuWay Machine, Tomy Gacha Machine Coin Mechanism & Parts, Plush Crane Machine, and Other Bulk Vending Machines. Contact us at: 626-458-7687.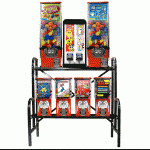 Vending1.com, Provides Bulk Vending Operators with quality products at discounted prices! We provide unsurpassed customer service and an industry leader in innovation from product development to rapid ordering technology. New Products: 1″ capsules, 2″ capsules, Tattoos, Bouncy Balls, Stickers and more!! Call for Prices! 631-913-8363, Visit Website: www.Vending1.com today!
Phone: 631-913-8363
eFax: 270-913-8366
Email Us