Vending Classifieds, Buy, Sell Used Vending Machines for sale, Vending Machine Equipment parts for sale & more
Used Vending Machines for sale may include these types of vending machines for sale; Drink, Soda, Snack, Combo, Can, Bottle, Glass Front, Deli, Food, Ice Cream, Healthy Vending Machines, DVD, Coin Operated breathalyzers, ATMs, Redemption Amusement Games, and many more! POST CLASSIFIED AD TODAY – Only $45 per month, per Ad– Includes: 100 word Description, Phone, Email and Photo! Banner Ads are  only $150 per month!
Scroll down to view ads.
Also see: Vending ROUTES FOR SALE USA, ROUTES for Sale CANADA, JOB LISTINGS, Bulk Machines, Parts & Supplies, REPAIR Services,  Machine Remanufacturers, Machine Distributors, Micro Markets, Healthy Machines, Healthy Snacks, Locators,
Call 1-800-956-8363 OR EMAIL, or POST YOUR MACHINES FOR SALE AD TODAY!!

Category Type

Classified Ad Buy & Sell Vending Machines
Photo/Logo
Contact Info
ALABAMA ROUTE FOR SALE
VENDING ROUTE FOR SALE MONTGOMERY AL! Established business for over 10 years. 16 Combo Snack and Drink Antares Vending Machines, 3 Snack Machines, 1 Coke Machine. ALL ON PROFITABLE LOCATIONS AND WORKING. Plenty of Room for expantion! Great Start up Business, just take over. Using VendSoft route management software.
Gross Annual Sales Average is $33,000.


Asking only $35,000!!!


Includes All Invendtory of Products and Parts.
Contact Elizabeth 478-283-0946.
HEALTHY VENDING MACHINES FOR SALE
4 HEALTHY VENDING MACHINES FOR SALE AND 1 COFFEE VENDING MACHINE!!!! GREAT WORKING CONDITION – Machines are ONLY 2 1/2 years old. Asking only $10,000 for ALL 5 MACHINES!!!! Call Roy at 802-598-1644
AIR/VAC ROUTE FOR SALE
MICHIGAN AIR/VAC ROUTE FOR SALE!
Air/Vac route for sale Michigan – Centrally located. 27 sites all under contract new equipment all less than 3 years old, takes both coin and credit card, all have remote monitoring includes 3 air/vac machines in inventory plus misc parts. $54,089 annual revenue, $31,859 net profit. Asking $60,000. Please email airvac161@gmail.com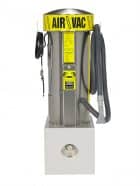 FLORIDA
FLORIDA VENDING ROUTE FOR SALE- Miami Dade area. Great Opportunity!!! Selling a business with 5 Healthy Vending machines combo (condition Used less than 2 years) All of them works with cash, credit card, apple pay and Samsung pay. All of them are established in different locations around Miami-Dade. If you are looking to start your own business do not hesitate to contact me. It has a website and we can explain any doubt. ALL THE MACHINES ARE WORKING SO YOU CAN GET MONEY INSTANTLY!!

Combo Vending Machine
ONE COMBO SNACK/DRINK VENDING MACHINE FOR SALE- on location in upper Marlboro, MD.
Only 2 years old – GREAT CONDITION, like new.
$250 down and take over payments!!!!!
MUST SELL – CALL NOW: 240-205-2825.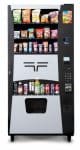 Micro market equipment for sale
Micro market equipment for sale- Chicago Suburb. 365 market kiosk with 3 refrigerators and 1 freezer all 76-78" tall and 17" deep and shelves (food not included). Great convenience for any business environment as kiosk allows credit card or fingerprint recognition for easy check out. Allows employees to grab a healthy lunch without leaving the building. Allows you to sell any items using UPC scanning at the kiosk. Asking price $11,999. All equipment included. More pictures available.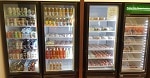 HOT FOOD VENDING MACHINES
REFURBISHED PIZZA VENDING MACHINES FOR SALE- CALIFORNIA– Hot Food Vending Machines and parts. From frozen to fresh oven baked food in 90 seconds or less. 26 Refurbished Machines, and 4 or 5 R&D machines with no mileage (example… IHOP and Jack-in-the-box). These machines were produced by Hot Choice (KRH). Asking only $99,900! Machines and large amounts of parts, are on pallets and ready to ship. Location ready.
$50k down and owner will carry remainder or make me an all cash offer. Will sell all or part, be creative and talk to me about Joint Venture or buyout. This machine has three cooking features to ensure hot fresh oven cooked food (micro to thaw, brick type 400 degree oven, and thermo air for browning).
Most of the machines are branded for pizza, but bring your own menu and serve anything you want. Easy to change out facings. I have business plans and forecasts for the entrepreneur that wants a six figure income. Call John 714-801-2059.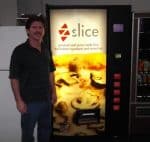 Quality Vending Locators – We locate all types of vending machines throughout the USA!! Snack-Soda-Bottle-Food-Micro Markets-Bulk Vendors-Amusement Games. Call today to get QUALITY VENDING LOCATIONS and the BEST RATES! 816-446-5840, We also sell new &
used bulk vending machines, call for pricing.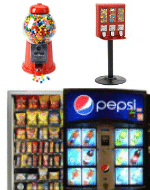 HEALTHY VENDING SOUTH CAROLINA
GREENVILLE SC HEALTHY VENDING ROUTE FOR SALE, Fastest growing area in southeast!
Healthy Vending Machine route for sale with SEVEN HealthyYou Brand Vending Machines, one year old, great condition. All machines on great locations, fitness center, hotel, university, engineer firm. Service time is a few hours per week. This existing route is a perfect opportunity for retired person wanting additional income…or fantastic start up with lots of potential!!

Asking only $35,000!! Call (864) 901-5493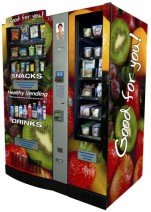 ---
POST YOUR VENDING BUSINESS FOR SALE AD TODAY Only $45 per Text Ad- Includes: Description, Phone, Fax, Email! Add a Photo for only $45 per month. Also, Banner Ads are only $150 per month! Ads are Listed Alphabetically by Category.
HAPPY CUSTOMER TESTIMONIES:
"All the machines are sold.  Please take the add off your website.  People are still contacting me. Thanks for your help!" Joesph M.
"I placed my machines on location for sale listing on Vendingconnection.com "Routes for sale" page and they sold! The customer service helped me write the ad and it was on the web the next day! We did receive great service."  —– Tom C.
"Would like to cancel my add, both route and truck have been sold!!! Thanks much." —–Paul
"Got a lot of responses, very happy with the ad!" ——–Jim
"The Arena Group, with your help, has sold the 50 BULK vending Machines in Michigan. Please place that on the website." —–Brian B.
Happy Vending!
from the VC Team