Vending Machine Routes for Sale USA

GREAT DEALS on VENDING MACHINE ROUTES FOR SALE!! Vending Machine Routes For Sale USA! Buy or Sell a Vending Machine Business, Micro Market, ATM or Office Coffee Service Route.
Do you need a Vending Machine Locator?
If you are at buyer or seller of a vending route, please email us with any questions.
Your Vending Route can sell within 1-3 months, if you price it right!!!
We can help you write your ad, just call 800-956-8363.
If you are buying a vending route you need to read this: The Vending Start Up EKit.
Call 800-956-8363, or POST YOUR ROUTE! Only $95 per Route Ad – Includes: Route Description 200 words, Phone, Email, Website and Photo!

State-Area
Vending Route for Sale Description
Photo/Logo
Contact Info
APPLETON, WISCONSON
VENDING ROUTE FOR SALE APPLETON, WISCONSON!! This is a 24 year old company with 101 full size vending machines, 95 are in locations. The bulk of machines are Vendo 721, Automatic Products, Dixie Narco, National and a smaller amount of generic equipment. The gross sales are year over year are very close to 100k sometimes slightly over or just under. The asking price is 1.5 times the sales or 130k. The business includes a stair climber 2014 van , parts and product in warehouse. A number of the machines are under 5 years old. There are a number of coffee stops in the route. There are no commission stops. The owner would like to retire but would be willing to spend three months helping transition new owner. CALL 920-858-6648.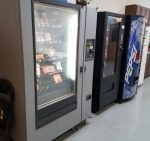 NORTH DAKOTA
BULK VENDING ROUTE FOR SALE IN NORTH DAKOTA AREAS, including some parts of South Dakota and Minnesota!!! 1600 Machines, 1300 Machines on location. 42 years established business. Includes: Bulk Vending Machines: Stickers, Tattoos, Gumballs. Also, Spiral Gumball, and Crane Game machines too. Asking Price is only $150,000. Owner is Retiring. Call 701-429-1530 for more details.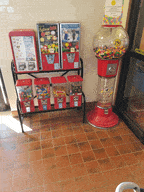 JACKSONVILLE, FLORIDA
VENDING ROUTE FOR SALE JACKSONVILLE, FLORIDA! Hit the ground running with over 30 reputable accounts in NE Florida, including it's most well-known hospital network, the city electrical authority, car dealerships, schools and corporate office locations. Founded in Jacksonville, FL in 2012 and serving the First Coast with best in class service and modernizing the customer experience with better food choices and a high end digital experience. Route sale includes: 22 fully equipped AMS combo vending machines in great working condition, miscellaneous replacement parts such as cash and coin acceptors and coils. AND Northeast Florida location leads list, contacts, website, and software licenses. Additional operational assets not included in list price available for purchase including vehicles. Gross Annual Sales $175K. Asking price only $130K! CALL TODAY 904-464-1037!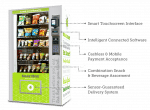 NORTH CENTRAL PENNSYLVANIA
VENDING ROUTE FOR SALE IN PENSYLVANIA!! Vending route in North Central PA. 60 New and refurbished machines grossing $12,000 per month!!!!! Great potential for growth, +10 back up machines and box truck turnkey ready to go 30 mile radius. Asking $350k, with 2 year ROI payback!! Call Jim McAllister today at 814-594-3782.
SAN ANTONIO, TEXAS
TURNKEY ROUTE IN SAN ANTONIO AREA!. ASKING $150,000 for all machines and locations. Profitable existing vending route with great locations and potential for expansion! Well established route with 37 machines in 12 locations. Gross annual sales average over $135k/yr. All machines are in good condition. All machines have been recently upgraded to accept all forms of payment including cash, credit card, pay apps and are equipped with Nayax technology to remotely monitor and manage sales and inventory. BUYER WILL RECEIVE: 37 machines already placed in current locations, 1 brand new machine that needs to be placed, coins in machines, product inventory in machines and in storage, containers/bins and storage racks, spare parts and machine manuals. Seller will provide hands on familiarization and training with software, machines, reports and face to face meeting with representatives at each location.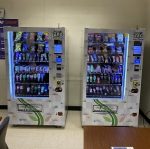 SOLD!!
ORANGE COUNTY, CALIFORNIA
CONFIRMED LOCATION ROUTE FOR SALE IN ORANGE COUNTY CALIFORNIA! Locations are schools and colleges in the Orange County, California area. The machines can vend Cappuccino, Mocha, Latte, Hot Cocoa, and Espresso. Most locations do not have any other vending services currently being offered. These machines can be setup nearly anywhere with just a power outlet. Servicing only takes 15 minutes. All Coffee machines are NEW and they still hold the manufacturer's warranty. The gross sales estimated it is $40,000 annually. I am including all inventory for each machine. The asking price is only $35,000. Owner is not able to service due to becoming handicapped.
ATLANTA, GEORGIA
Established Vending Routes for sale in Atlanta, Georgia. 9 machines 3 routes,3 snack, one combo,4 drink ,one change all on locations with no commission on all the routes. east ,north, south Atlanta areas. All routes in positive cash flow from machines. I am willing to break down routes by area, if you want a certain section of the Atlanta area. Asking price $23,000. Call Daryl at 786-742-1129 or 770-203-3175. Email deevendingllc@outlook.com.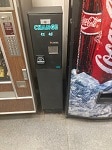 STANWOOD, WASHINGTON
Established Vending Routes for sale in Stanwood, Washington. Healthy Snack Vending route for sale. Two "Naturals 2 Go" machines from Vendtech International, placed in great locations, in Skagit County WA. Wonderful growth opportunity in the area. Machines are only 2 years old and have Remote monitoring with Credit, Debit, and Touch pay. Inventory selection is completely flexible in conjunction with the desires of the location. Machines cleared $10,000 first year. Asking $12,000 or best offer!!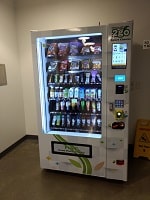 SOLD!!
---

Call us at 1-800-956-8363 – POST YOUR AD HERE!
Only $95 per Route Ad – Includes: Route Description 200 words, Phone, Email, Website and Photo!

HAPPY CUSTOMER TESTIMONIES:
"Please remove my listing, I have sold the business." – Jamie
"Thank you so much for the visibility my route received on your website. I got more calls than I imagined I would. Please remove the listing from your website as the route has been sold…Thanks again." —Vinny
"Hi Karen – thanks for all the help, that Vending m/c Business is now sold, you can remove the Ad, thanks" -Vijay
"I have a route listed for sale on Vending Connection. Its the Broward County Florida route listed for 15K. I just want to advise that the route has been sold and the ad is no longer needed. Thank you!!" –Emir
"Hi, I have sold my route. Please either remove my ad or mark it sold. Thank you so much for your help. I wouldn't have been able to sell the route without you." —Donna
"Just to let you know, that we already sold the route in January 2020. I appreciate your support, thanks a lot, because your website gave me chance to sell my route. The customer contacted me through your website. Could you please put "SOLD" in my advertisement. Because I'm still receiving phone calls and e-mails asking me for the route." —-Luis
"Hi Karen, My business was sold today! Thank you!" –Carolyn
"The Vending Route that I posted on vendingconnection.com is already sold! Thank you very much for your help." –Regards, Roy
"The vending machines have been sold. Please update the add and my account. Thank you! "–Crystalyn
"I placed my machines on location for sale listing on Vendingconnection.com 'Routes for sale' page and they sold! The customer service helped me write the ad and it was on the web the next day! We did receive great service." — Tom C.
"Would like to cancel my add, both route and truck have been sold!!! Thanks much." —Paul
"Got a lot of responses, very happy with the ad!" —Jim
"The Arena Group, with your help, has sold the 50 BULK vending Machines in Michigan. Please place that on the website." —Brian B.
"Our business has been SOLD. Thanks to VendingConnection.com our Business sold within 24 hrs." —Dave
"Please cancel my ad for "Well established bulk candy route for sale in Mercer County, NJ" and list the route as SOLD. I received many emails and calls in response to my ad. Thank you very much for your wonderful, far-reaching service." —Sue C.
"Please list my vending route for sale as "sold". I received a lot of calls and I am very pleased with your company. I can't believe the amount of interest my ad received. Thank you very much in helping me sell my business." —Nat
"Please cancel my ad. The route has been sold! I received more calls from this, I didn't even know what to do. The ad is the San Fernando route SOLD for $46,500." —Ben
Routes sell fast! Post your vending route for sale now
Fill out my Wufoo form!
Happy Vending! from the VC Team, Call 1-800-956-8363
Also see: Vending Machine Distributors | New Vending Machines | Used Vending Machines for sale | Trade Shows | Micro Markets | Healthy Vending Machines | Vending Technology News | News | VendLoco Lists | Home |
VENDING YELLOW PAGES DIRECTORIES: