Mobile Food Vending Trucks & Vans for sale
Mobile FOOD VENDING TRUCKS! These FOOD Trucks are great for Foodie Entrepreneurs! Please contact these suppliers directly for more information about their trucks/vehicles.
Also see: Vending Trucks for sale, Concession Trailers, Vending Carts, Ice Cream Trucks,
POST YOUR COMPANY-Get New Business!
Company / Website
Mobile Food Truck Company Description
Photo/Logo
Contact Info
Custom Concessions –
is one of the best manufacturers of customized mobile kitchens in the United States. We have built trailers for thousands of satisfied and successful customers. Each of our trailers are custom built from the ground up to ensure quality and perfection in every build.
We also specialize in building the finest food trucks, bbq smokers, ice cream trucks, tailgating trailers and more!
Visit
www.customconcessions.com
Specialty Trux offers a wide range of new and used commercial trucks for a wide variety of needs:
beverage and vending routes, food or bottled water delivery, ice cream sales, and laundry services.
Us Concessions/Food Trucks
– Aspiring chefs, foodies, and entrepreneurs, who would typically need at least $250,000 in start-up capital for a brick-and-mortar restaurant, are now turning to the food truck industry to follow their passion for food. With a lower cost of entry and fewer limitations than traditional restaurants, the food truck industry continues to grow in innovation and appeal. If you've been dreaming of joining the food truck revolution, U.S. Concessions can help turn your food truck vision into a reality!
http://www.usconcession.com/food-trucks/
UsedVending.com – Used food trucks are our specialty! Being the pioneer and inventory leader in used food trucks, we have a huge selection to fit any need. Since 1999, USEDvending.com has marketed and sold thousands of food trucks and other concession vehicles. Here are a few, but browse hundreds of food trucks for sale online via our website! We have food trucks for sale all over the USA & Canada. Whether you're looking for a nice ice cream truck or a full blow tractor trailer kitchen, you'll find great deals with us. NEW trucks are added each and every day; so check back often on our website! Also, set a Me First Alert to get first notice of new trucks near you! Used Vending/Food Trucks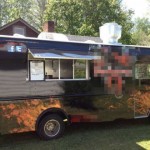 Phone: 601-749-8424
Fax: 601-749-8425
Email us!