Mobile Food Vending Trucks
Mobile FOOD VENDING TRUCKS! These FOOD Trucks are great for Foodie Entrepreneurs! Please contact these suppliers directly for more information about their trucks/vehicles.
Also see: Vending Trucks for sale, Concession Trailers, Vending Carts, Ice Cream Trucks,
POST YOUR COMPANY-Get New Business!
Company / Website
Mobile Food Truck Company Description
Photo/Logo
Contact Info
Food Fleet
was created to help bring the industry of Food Trucks to the People. If you want to book a truck (or a dozen trucks!) we take all the hassle and risk out of doing so. We plan Events to as little as 40 people to thousands of people. Working closely with Festivals, Corporate Clients, Universities, Private events and more, we have the knowledge and the experience to make your event one to remember. Food Fleet offers high potential booking opportunities, expertise on menu development and operational efficiencies, common prep kitchens and even help with health and business licenses. Our technology platform allows customers to browse through menus of some of America's hottest trucks, book them easily, and even design your own catering menu. For trucks, we offer simple point of sale (POS) systems, inventory management, and soon to come, online ordering. Visit
https://FoodFleet.com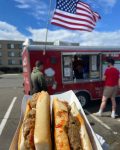 UsedVending.com – Used food trucks are our specialty! Being the pioneer and inventory leader in used food trucks, we have a huge selection to fit any need. Since 1999, USEDvending.com has marketed and sold thousands of food trucks and other concession vehicles. Here are a few, but browse hundreds of food trucks for sale online via our website! We have food trucks for sale all over the USA & Canada. Whether you're looking for a nice ice cream truck or a full blow tractor trailer kitchen, you'll find great deals with us. NEW trucks are added each and every day; so check back often on our website! Also, set a Me First Alert to get first notice of new trucks near you! Used Vending/Food Trucks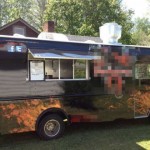 Phone: 601-749-8424
Fax: 601-749-8425
Email us!