Car Wash Equipment, Automatic Car Wash Suppliers
Automatic CAR WASH EQUIPMENT FOR SALE & Car Wash Supplies. Please contact the car wash systems suppliers (distributors and manufacturers) directly for more information and pricing.
Also see: Janitorial Cleaning Supplies, Tokens, Cleaning Cards, Coin Changers,
POST YOUR COMPANY-Get New Business!
Got A Car Wash? Think Kleen-Rite!
Company / Website
Automatic Car Wash Equipment / Supplies
Photo/Logo
Contact Info
Car Wash Concepts -Quality Car Wash Equipment, Parts and Service for the Car Wash Industry! Since 1969, Car Wash Concepts has been offering complete turn-key solutions from site evaluation and planning to providing hi-performance car washing equipment, software and supplies for all of your everyday car wash needs. Finance and leasing options are now available. Imagine Software Solutions – Car Wash Monitoring. Visit website at: CarWashConcepts.com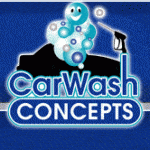 Coleman Hanna® Car Wash Systems – Since 1960,Coleman Hanna Car Wash Systems has been the premier supplier of innovative car wash tunnel equipment systems. All Coleman Hanna equipment is designed, manufactured and assembled in the USA in Houston, Texas. Our top-notch engineering department uses advanced technology to constantly enhance and create innovative tunnel car wash systems.
Mark VII Equipment has been a carwash industry leader for over 40 years. Our products include AquaJet GT® touch-free and Wesumat friction automatic rollovers, AquaDri® dryers, AquaSpray self-serve systems, AquaJet® Tunnels and ancillary products and chemicals. We provide the equipment you need to build a successful and profitable carwash business!
Ohio Car Wash Supply servicing most major brands of car wash equipment for corporate and privately owned car wash facilities.
Car Wash Supplies – The sales team at Ohio Car Wash Supply are committed to helping our customers build the finest and most successful vehicle wash facilities in Ohio for car dealerships, transit, trucks, corporate and private ownership.
Experience – Our 38+ years of experience in the car wash business helps pave the way to your success.
Are you tired of taking everyone else's tokens and losing money?
Try High Security CT and CTX tokens from industry leader
Van Brook of Lexington
. We offer exclusive distribution and special alloy tokens good for values from $0.50 up to $14.00.