Personal Product Vending Machine Equipment, PPE
PERSONAL PRODUCT VENDING MACHINES FOR SALE! Personal product vending machine suppliers are listed below. Please contact them direct for more information concerning personal product vending machines & vendible products.
Also see: Suppliers Directory, CBD Products, Personal Products Wholesale, PPE Products, Washroom Dispensers, Wall Mount Machines, First Aid, OTC, Product Manufacturers, CBD Machines,
POST YOUR COMPANY -Get New Business!
Company/ Website
Personal Product Vending Machines
Photo/Logo
Contact Info
CBD "Legal-Age Verification" Vending Machines
Compact unit with impressive capacity. This unit comes with legal-age verification hardware, so this machine is ready to sell: CBD, PPE, tobacco, e-cigarette or similar products, right out of the box. These products are an untapped and lucrative market and these machines are primed to take a piece of it. This is a smart vending machine with remote access to monitor the status of the machine.
Power: 110Vac, 8A, Connectivity: Cell or LANMaterials: Steel, Aluminium, Payment Device: Nayax or Equivalent, Warranty: 1 year, all parts, Manufactured in USA, (Bottom stand portion not necessary for mounting to walls), Dimensions: 18.5″(wide) x 42.0″(tall) x 13.1″(deep), Weight: 85lbs, Max 18 conveyors, Conveyor Size: 12″long x 2″wide, Tray Size: 9″ wide, Tray Capacity: 36″tall, 9″ wide, Payment: Credit/Debit/Chip/Apple/TapDispensing vend sensor, Display: 24″ Touch Screen.
Contact Don Rischuk, rischuk@vendinginfo.ca, T: 204-272-0310, Toll Free: 877-732-6965, M: 604-727-9091.
Vending Design Works Ltd.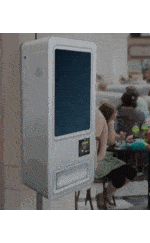 Weiners Ltd is The Nation's largest supplier of trial size toiletries and medications to hotel and hospital gift shops. Our catalog has nearly 900 items for travelers and people on the go.
Phone: 800-788-8601
Local: 608-831-3554