Vending Machine Keys & Locks for sale! Vending Machine Wholesale Keys & Locks Supply Companies


WHOLESALE KEY AND LOCK SUPPLY COMPANIES. Vending Machine Keys & Locks suppliers for your vending machine security are listed alphabetically below. Please contact them directly for more information about their vending machine (keys, Locks) security products and pricing.
Also see Security Systems, Locking security deposit bags, Parts, Supplies,
POST YOUR COMPANY-Get New Business!
Company / Website
Vending Key & Lock Supply Companies
Photo/Logo
Contact Info
BRW Control–The Leader for Security Systems for coin operated equipment, vending businessesBRW's products offer reliable, versatile and inexpensive security protection for vending machines, coin amusement and video games, debit card / smart card / calling card machines, ticket machines (ITVMs), ATMs, kiosks, lottery pull-tab and other equipment.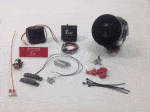 Locking Systems International Inc. specializes in the sales, service and assembly of all types of locks and other OEM security devices. All locks are custom assembled to customer specifications. Including cam locks, vending locks, Vel-Key products and more! The Right Lock – The Right Security – The Right Price!
Star Lock Systems – Mechanical and electronic high security locks, high security key rings. Drill resistant security T-handles.
Phone: 888-215-1460
Fax: 614-876-1046
Van Lock Co. -We manufacture unique and high security locking products for a wide range of industries. Our locks are used in applications that demand not only the toughest physical security but also strict key control and system integrity. All of our products are manufactured at our state-of-the-art facility and are backed by a dedicated team who takes pride in the products we make and the service we provide.

Phone: 800-878-1826
Local: 513-561-9692
Fax: 513-561-0314
Website: www.VanLock.com
Locks and Security Equipment Suppliers – Plug Locks, Cam Locks, PadLocks, Accessories, and more! Call for catalog.
Phone: 800-906-5625
Fax: 949-646-8393
Wiczer Industries offers Locking Money Bags, Cash Management Supplies, safes, locks and security devises.