RISE Brewing Co. Expands Cold Brew Nitrogen Coffee With Focus On Refreshment Services
When Grant Gyesky and some of his friends began brewing cold brew nitrogen coffee in their apartments in 2014, they had no idea how fast their company would grow. Today, RISE Brewing Co. has 25 employees and is offering cold brew kegs and ready-to-drink (RTD) cans to offices and retailers nationwide.
The New York City based company was fast to catch on to the popularity of cold brew nitrogen coffee, one of the fastest growing refreshments. Cold brew coffee is expected to grow roughly 24.6% per year through 2024 to $110 million from $29 million this year, according to Market Insight Reports.
While the refreshment services industry presently accounts for 30 percent of RISE's sales, the company pins high hopes on convenience service operators. The company has targeted offices for both its kegs and RTD cans.
"Our preference certainly is to sell through the service operators, and so we've set up our structure so that they are always able to win to the customer," said Melissa Kalimov, chief operating officer. The company sells direct to end user locations in territories that are not served by service operators.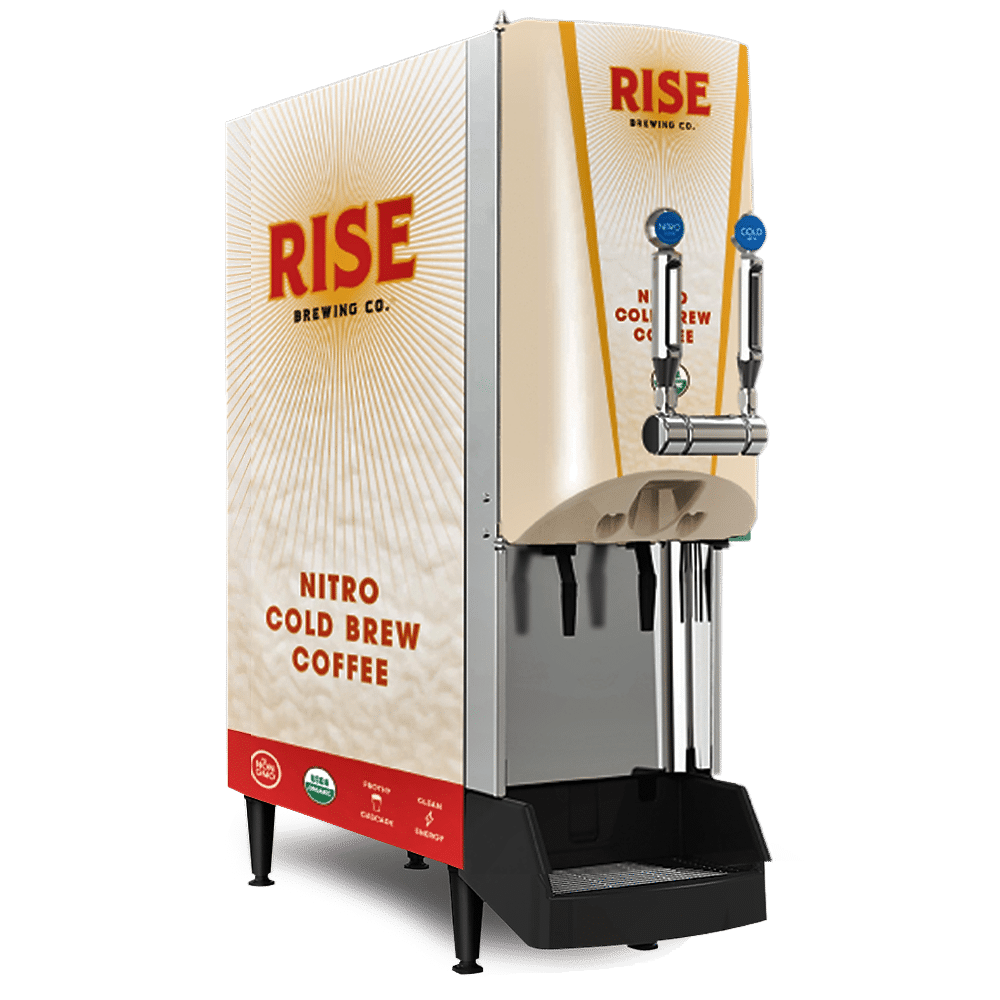 RISE also supplies offices with a countertop bag-in-the-box dispenser. Refreshment service operators establish their own terms with office customers for the dispensers, Kalimov said.
While the office channel is newer, both the office and retail channels are expanding at the same rate, Gyesky said. The cans can be stored in an ambient state while the kegs are stored cold.
"What we were looking to do was replicate that on-draft experience we were giving people in the offices," Gyesky said for the RTD cans. "We have one of the few non-perishable cold brew cans on the market."
The RTD line has expanded to include citrus coffees and a lemonade cold brew coffee. By 2019, both the keg and can distribution were nationwide and now includes around 10,000 retail stores, Gyesky said.
RISE uses organic coffee grown in the high altitude in Peru's Chanchamayo Valley. The coffee beans are steeped in large stainless steel brewing tanks over a long period of time in the company's manufacturing facility in Stamford, Conn.
"It releases the flavor of the beans in a much more gentle manner than just flashing them with hot water," Gyesky said. "Doing it over a longer period of time at lower temperatures doesn't release those oils, and so you get a much smoother and naturally sweeter cup of coffee. And then when we add the nitrogen to it, it gives it a creamy texture."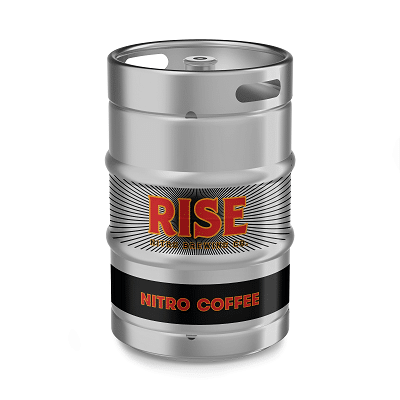 "The really small nitrogen bubbles kind of play a trick on the tongue and makes it feel like you're drinking a latte," he said.
Flavors include Original Black, Classic Latte, Oat Milk Latte, and Oat Milk Mocha.
RISE offers sampling programs for refreshment service operators, Kalimov said. "We definitely try to be a very giving partner," she said.
The company has partnered with National Coffee, a Coconut Creek, Fla. based broker and redistributor of OCS products.
The products are available through Vistar, as well as Nestle Water, W.B. Mason and foodservice distributors.
The suggested price is $2.95 for a can and $4 for a 12-ounce draft and $5 for a 17-ounce draft.
RISE currently has 25 employees and is looking to bring on another 15.
For more information visit https://risebrewingco.com/
By Karen Scott, Publisher
---

Home | NEW PRODUCTS | Vending Newsletter sign up | Contact us | email press release
Also see: Beverages, Coffee, Cold Brew, Snacks, Foods, Brokers, Chips, Nuts, Energy Drinks, Energy bars, Fruit Snacks, Meat Snacks, Salty Snacks, Candy, Trail Mix, Gluten Free, Healthy Snacks, Pastries, Cookies, Crackers, Foods, Hispanic Snacks,
Also see: Product Brokers, Product Distributors, Micro Markets | Vending Companies USA
VENDING YELLOW PAGES DIRECTORIES:
Call us at 1-800-956-8363 or POST YOUR COMPANY, GET NEW BUSINESS!