Wholesale Foods for Vending and Micro Markets, Wholesale Food Product Suppliers
Wholesale FOODS PRODUCTS Products Companies for vending machines & micro markets. Please contact these wholesale food product supply companies for more information and wholesale pricing for their food products.
Also see: Foodservice Distributors, Product Distributors, Product Brokers, Deli Foods, Meat Snacks, Crackers, Frozen Food, Healthy Snack Products, Pastries, Low Carb, Soy, Gluten-free, New Products,
Suppliers Directory, Micro Markets, Vending Companies USA, Vending International,
POST YOUR COMPANY-Get New Business!
Company / Website
Wholesale Food Product Company Suppliers
Photo/Logo
Contact Info
BulkFoods.com – Since 1938, a family business retailing dried fruits and nuts, 1975 whole foods wholesaler, 1996 wholesale online. Online Ordering website for Bulk food products- www.BulkFoods.com today!

Phone: 419-324-0032
Fax: 888-285-5266
Classic Delight – We make great sandwiches!
Our Biggest Hit – BIGFOOT SUBS! In demand right now are these 12″ subs in a variety of flavors including Italian, Ham & Cheddar, American Hoagie & Roast Beef with Provolone, Peppers & Onions. The newest addition to the mix is a great Turkey & Pepperjack subs. based out of St. Marys, Ohio. Visit website: ClassicDelight.com.

Phone: 800-274-9828
Fax: 419-394-3199    
SULTANA DISTRIBUTION SERVICES – As the nation's only Full-Line Confectionery & Snack Redistributor, Distributors throughout the country rely on Sultana to economically and efficiently manage and maintain their inventory. SDS consolidates and ships hundreds of confectionery & snack items to over 1,500 Wholesale Distributors of all sizes throughout the continental United States.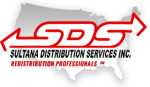 Also See: Snacks, Product Brokers, Wholesale Foods, Healthy Snacks, Chocolate, Chips, Crackers, Deli, Pastries Cookies, Vending Companies USA, Vending International,
POST YOUR COMPANY-Get New Business!