Healthy snacks for Vending, healthy snacks supply, health food snack products, wholesale suppliers for healthy vending products!
Contact the Wholesale Healthy Snack Product Companies listed below direct, for find out more information about their Healthy Snack food products!
Also see: Trail Mix, Energy bars, Candy, Nuts, Fruit Snacks, Wholesale Snacks,
Click here to post a listing for only $25 per month!
Company / Website
Healthy Vending Snack Food Products
Photo/Logo
Contact Info
New BARE FRUIT is a delicious, healthy snack that is all natural baked fruit, low in calories, high in fiber and naturally sweet! The secret is in our slow bake dried process in apple wood-burning ovens. BARE FRUIT comes in a variety of apple chip and coconut chip flavors.
Phone: 509-554-5550
Local: 360-778-1444
Fax: 360-778-1872
Dakota Gourmet – Healthy snacks you'll be proud to serve… Since 1987, the master roasters at Dakota Gourmet have converted locally grown corn, sunflower, and soybean commodities into mouth-wateringDakota Gourmet Foodservice Site school menu items that meet USDA standards.
Dipasa USA, Inc. – Our Sesame Honey bits are a healthy and delicious treat. We combine our mechanically hulled sesame seed with our special honey to make this nutritious snack. Based out of Brownsville, Texas.
EatSmart All-Natural Snacks are always tastier and always better for you. Now, reduce carbs with Soy~Teins.
Every Day Fruit Healthy Snacks Can Be Tasty Too! Discover how easy it can be to snack your way to better health just by eating fruit-based healthy snacks! Everyday Fruit has a solution to all of the excuses we use to avoid eating healthy snacks; all while you get the suggested daily fruit requirement. Ensure your long-term health with these appetizing and healthy snacks.
Phone: 888-262-3997
Fax: 305-768-3916
Jim BeamⓇ
– Our select nuts are harvested across America's greatlands and embody the flavorful heritage of Jim Beam's 200+ year history. Signature roasted with a touch of genuine Kentucky flavour, these nuts carry a sweet & smokey flavor that you are sure to enjoy! Go ahead, taste a delicious handful of these nuts and discover the difference true Kentucky flavor makes. Jim BeamⓇ — famous for quality since 1795.
View Jim BeamⓇ website:
www.jimbeamnutsnacks.com
.
Click to view Jim BeamⓇ Nut Snacks
Product Brochure.pdf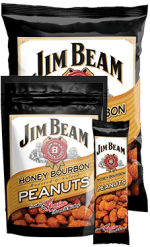 LUVO – Our menu of frozen entrées come right out the pouch looking and tasting like they came out of a restaurant kitchen. The secret is simple: wholesome, nutritious ingredients and chef-inspired recipes steam-cooked in our paper pouch. Wholesale Healthy Frozen Meals – Frozen Food Merchandisers for Vending, from Luvo Inc!

Vend Natural – The growing demand for convenient access to health foods has led to an explosion in the health food market, and has dictated a revolution in vending machine design resulting in today's state-of-the-art machines offering fresh, natural and organic snacks and beverages. Visit: www.VendNatural.com.