Coca-Cola With Coffee Coming To USA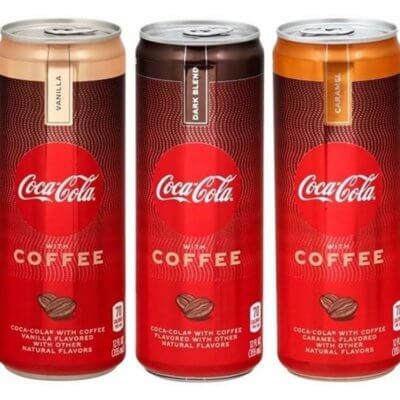 Coke with coffee? The Coca-Cola Company has released a wide variety of fan favorites over the last 10 years, now Coca-Cola with Coffee could be another grand slam hit with it's scheduled release in the United States in January 2021. 
This version of Coke contains contain 69mg of caffeine, which is more than the 40 mg of caffeine that you can get from espresso, and more than the 11 grams of the caffeine that can be found in regular green tea. 
What Flavors Will It Have? 
Coca-Cola with Coffee contains Brazilian coffee and will be available in three different flavors including vanilla, caramel, and also a dark blend. 
This Coke product is now available in Turkey, Italy, Brazil, and Japan, consumers in the United States will have to wait until January 2021 when it finally becomes available in the United States. 
For more information about Coca-Cola with Coffee, visit their website by clicking here
By Jeremy Raglin, Editor-Content Writer
---

Home | NEW PRODUCTS | Vending Newsletter sign up | Contact us | SUBMIT PRESS RELEASE
Also see: Beverages, Coffee, Cold Brew, Snacks, Foods, Brokers, Chips, Nuts, Energy Drinks, Energy bars, Fruit Snacks, Meat Snacks, Salty Snacks, Candy, Trail Mix, Gluten Free, Healthy Snacks, Pastries, Cookies, Crackers, Foods, Hispanic Snacks,
Also see: Product Brokers, Product Distributors, Micro Markets | Vending Companies USA
VENDING YELLOW PAGES DIRECTORIES:
Call us at 1-800-956-8363 or POST YOUR COMPANY, GET NEW BUSINESS!