Wonder Drink Kombucha Expands To Convenience Services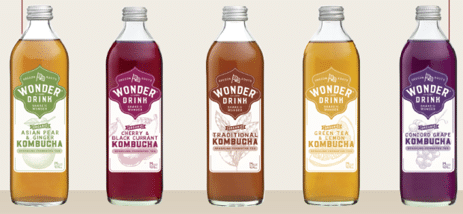 Wonder Drink Kombucha, based in Portland, Ore. and owned by Tetley Tea, has been introduced to the foodservice trade this year, having been available at retail since 1999 and becoming the first nationally distributed kombucha brand in 2002.
The company will be introducing its 12-ounce bottles to the vending and micro market trade in November, complementing its 14-ounce bottles and 8.4-ounce cans which the company introduced to convenience services this year.
Kombucha, a fermented tea made with tea, sugar, bacteria and yeast, has been popular for many years due to its association as a digestive health product.
The global kombucha market size is projected to reach $5.45 billion by 2025, according to a recent report by Grand View Research, and is expected to expand at a 23 percent compound annual growth rate, driven by innovations, flavor experimentation and increasing awareness regarding health benefits.
Sales increased an average 33 percent year over year in 2017.
"We don't add probiotic pharmaceutical products to our Kombucha," explained Trevor McSwain, Wonder Drink Kombucha's national sales  manager for convenience services. "It's simply fermented tea." Wonder Drink is made from prebiotics, which are dietary fibers that promote growth of healthy bacteria that are already present in the gut.
Wonder Drink was created by Stephen Lee, the co-founder of Tazo Tea and Stash Tea, to make it easy for people to enjoy kombucha, which is oftentimes an acquired taste. "The goal was to take kombucha to the masses," McSwain said. "All of our drinks are infused with natural flavors. It's all organic. It's a little more tasty."
Wonder Drink filters its kombucha after brewing it to prevent the fermentation process from continuing. "It's guaranteed non-alcoholic," McSwain said.
The company uses natural juices and flavors to produce its different Wonder Drink options, which include Niagara Grape, Cherry Cassis, Green Tea & Lemon, Asian Pear & Ginger and Traditional.
The 8.4-ounce aluminum cans have been the preferred size in vending and micro markets, McSwain said, with a $2.49 to $2.59 suggested retail price. The suggested retail price for the 14-ounce glass bottle is $3.79 to $3.99. He said the product has been most successful in micro markets and health-oriented vending machines.
"Mostly people are interested in the cans because the price point is better for the consumer and it's one serving," he said.
The main competition for Wonder Drinks comes from local kombucha brewers. "The drawback to them is because they don't filter it and stop the fermentation," he said. In addition, the shelf life on those products is much shorter than Wonder Drinks' 18-month shelf life.
Wonder Drink ships direct from its Portland facility, but ships through Dot Foods, the Mt. Sterling, Ill. based foodservice redistributor, to convenience service distributors such as Vistar. Certified Management Group LLC is Wonder Drink's national broker for convenience services.
McSwain believes micro markets will continue to expand at a rapid pace in convenience services.
For more information visit https://www.wonderdrink.com
By Karen Scott, Publisher
---

Home | NEW PRODUCTS | Vending Newsletter sign up | Contact us | email press release
Also see: Beverages, Coffee, Cold Brew, Snacks, Foods, Brokers, Chips, Nuts, Energy Drinks, Energy bars, Fruit Snacks, Meat Snacks, Salty Snacks, Candy, Trail Mix, Gluten Free, Healthy Snacks, Pastries, Cookies, Crackers, Foods, Hispanic Snacks,
Also see: Product Brokers, Product Distributors, Micro Markets | Vending Companies USA
VENDING YELLOW PAGES DIRECTORIES:
Call us at 1-800-956-8363 or POST YOUR COMPANY, GET NEW BUSINESS!