OREO Will Be Releasing Red, White, and Blue, Team USA Cookies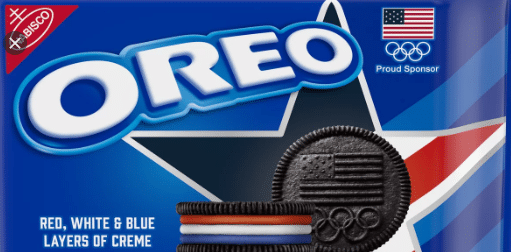 With the 2020 Olympics now only months away, OREO Cookies announced that they will be releasing a special red, white and blue cookie just in time for the 2020 Olympics in July.  
Since the company will be sponsoring Team USA, this move makes perfect sense because most consumers will naturally gravitate towards purchasing patriotic products during the Olympics, and OREO cookies are one of the favorites "comfort foods" of choice for the average consumer. 
Oreo Going "All In" Promoting The 2020 Olympics 
When asked about their plans for promoting the 2020 Olympics, a representative from OREO stated that their Olympic themed cookies weren't just the only thing they were planning on doing to promote the 2020 Olympics. 
The company encouraged fans to "stay tuned" because it's likely that they will be releasing more Olympic themed products and promotional tie ins related to the upcoming Olympics which will take place July 24th through August 9th, 2020 in Tokyo Japan. 
An estimated 11,091 athletes are expected to participate in the 2020 Olympics so it makes sense that major brands like OREO would want to make a major splash promoting the games especially since they are sponsoring team USA. 
About the Team USA Cookie 
Fans of the traditional OREO cookie can rest easy that the quality or taste of their favorite cookie isn't going to change. The Team USA cookie will have the same OREO shape that people know and love, but instead of one layer of frosting, there will be three layers of frosting in red, white and blue colors. Both sides of the cookie will be stamped with an American flag and Olympic rings. 
OREO has been slowly testing the reception of their Olympic themed cookie, they recently released limited–edition cookie in December 2019, in honor of the Winter Olympics. Thanks to the success of that cookie it's clear that OREO is moving forward quickly with getting ready for the 2020 Summer Olympics because they know that people like to feel that they are a "part of something" during the Olympics and will most likely want to buy the Olympics themed cookie to support Team USA. 
The Innovating Cookie Brand 
With the announcement of their Team USA cookie, OREO has been one of the busiest brands in recent years as they have spun off their iconic cookie into a variety of different versions and OREO products including OREO Thins, OREO chocolate candy bars, OREO thin mints, and more! 
Besides offering a variety of new versions of their classic cookie, OREO has also started offering recipes on their website that fans can use to incorporate their favorite stuffed cookie into their desserts. 
There's no doubt that OREO remains one of the most widely recognized brands across multiple generations because it's a yummy cookie that's easy to consume.   
With the 2020 Olympics fast approaching, it's likely that OREO fans from every generation will be enjoying their favorite cookie as they watch the Olympic games together.  
Don't miss your chance to capitalize on the 2020 Olympic Games. Make sure to have the new Team USA cookie available in your micro-market or vending machine route just in time for the 2020 Olympics! 
For more information visit https://www.oreo.com/
---

Home | NEW PRODUCTS | Vending Newsletter sign up | Contact us | email press release
Also see: Beverages, Coffee, Cold Brew, Snacks, Foods, Brokers, Chips, Nuts, Energy Drinks, Energy bars, Fruit Snacks, Meat Snacks, Salty Snacks, Candy, Trail Mix, Gluten Free, Healthy Snacks, Pastries, Cookies, Crackers, Foods, Hispanic Snacks,
Also see: Product Brokers, Product Distributors, Micro Markets | Vending Companies USA
VENDING YELLOW PAGES DIRECTORIES:
Call us at 1-800-956-8363 or POST YOUR COMPANY, GET NEW BUSINESS!