Hero Jerky – Peppered Meat And Cheese Trail Mix – All The Flavors That You Want In One Bag!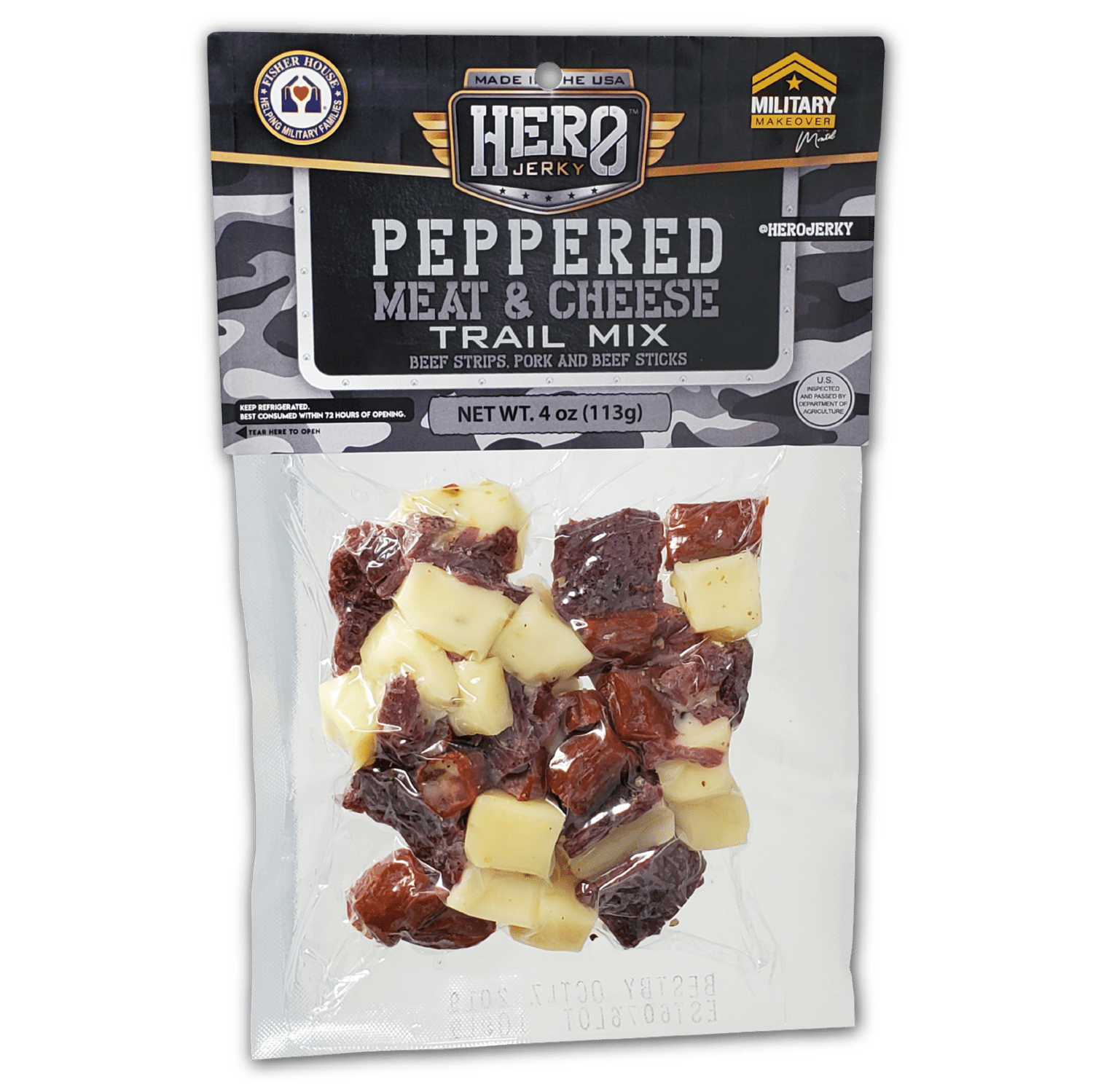 Beef jerky has risen in popularity in recent years because it's an easy way to get the daily dose of protein and vitamins, including vitamin B-12, folate, iron, and zinc from one bag of jerky. Cheese is also an excellent source of vitamin B-12, zinc, riboflavin, and phosphorus as well. 
Thanks to Hero Jerky's Peppered Meat and Cheese Trail Mix, anyone who enjoys this bag of jerky can get  the Hero vitamins and minerals that their bodies need, even while they are on the go. 
Hero Jerky has a mission. With each bag of jerky that they sell, the company donates a portion on the proceeds to helping Veterans groups, VA medical centers, and the Fisher House Foundation.  Besides helping Veterans, Hero Jerky also supports heroes in all other walks of life, especially those anonymous heroes that work hard to make a difference in their communities and families lives. 
More Consumers Want Jerky 
Since 1999, jerky has been one of the fastest growing food categories in the United States and it's not showing any sign of slowing down as it now ranks behind coffee as the #2 food product in the world. 
The Perfect Anytime Snack 
Hero Jerky's Peppered Meat and Cheese Trail Mix is the perfect anytime snack that will provide the average consumer with the protein boost that their bodies need without filling them with lots of salt, sugar, or man-made chemicals. 
Each bag of Hero Jerky contains less than 2% salt. This means that for the consumer who tries it, they can count on enjoying a healthy snack that will feed their body without leaving them wondering how the jerky will affect them later on. 
To learn more about Hero Jerky visit their website at https://www.herogivesback.com/, call (206) 915-7499, email rogerz@grandcomnet.com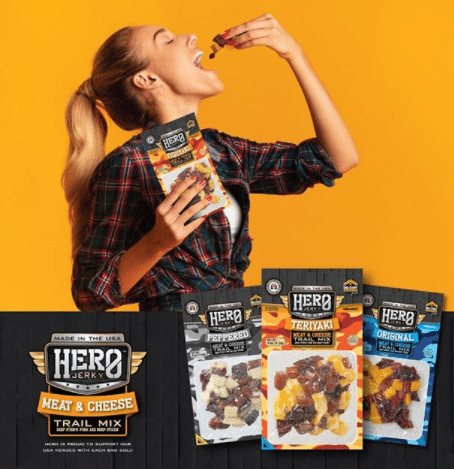 By Jeremy Raglin, Editor & National Sales Director
---

Home | NEW PRODUCTS | Vending Newsletter sign up | Contact us | SUBMIT PRESS RELEASE
Also see: Beverages, Coffee, Cold Brew, Snacks, Foods, Brokers, Chips, Nuts, Energy Drinks, Energy bars, Fruit Snacks, Meat Snacks, Salty Snacks, Candy, Trail Mix, Gluten Free, Healthy Snacks, Pastries, Cookies, Crackers, Foods, Hispanic Snacks,
Also see: Product Brokers, Product Distributors, Micro Markets | Vending Companies USA
VENDING YELLOW PAGES DIRECTORIES:
Call us at 1-800-956-8363 or POST YOUR COMPANY, GET NEW BUSINESS!