Califia Farms Plant Milks A Big Hit In Micro Markets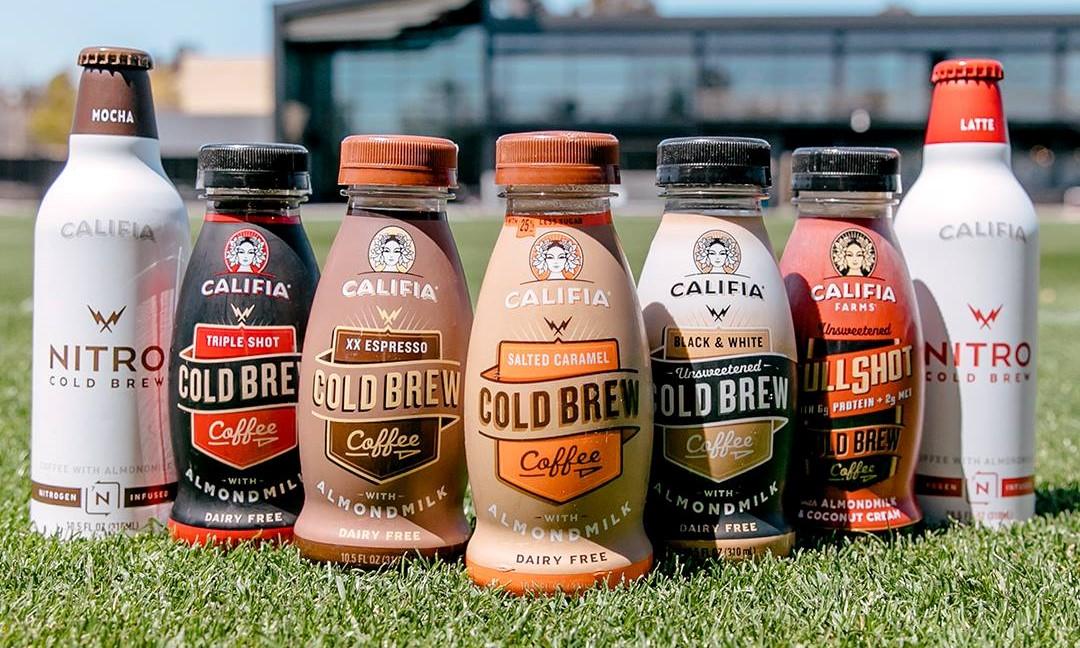 Califia Farms, a manufacturer of plant-based milks, has found great success for its single-serve products in micro markets in offering its health oriented alternative dairy products to the convenience services industry in addition to other retail channels.
"As companies want to differentiate themselves for their employees and provide better benefits, they're providing healthier and healthier alternatives," said Karl Walter, sales and distribution manager. "Califia kind of owns that space." The company's portfolio includes plant milks, cold brew coffees, probiotic yogurts, creamers, juices and pantry staples.
While the company's strongest presence is in retail, it has exhibited at National Automatic Merchandising Association (NAMA) shows to build its business in convenience services, Walter said. Compass Group carries the brand in its micro markets.
The beverages are available from certain Vistar warehouses along with broadline foodservice distributors and convenience store distributors.
The company also works with product brokers for foodservice and retail.
The global plant-based beverages market is projected to register a combined annual growth rate of 12.1 percent in the forecast period of 2019 to 2026, according to research from Data Bridge Market Research.
"We're trying to offer a non-dairy alternative," Walter said. "We're a vegan company; plant based everything. Our main mission is to return nutrition to the food system. We're actively reducing sugar across our product line. Part of our mission as a company is to reduce sugar consumption overall."
In February 2019, Califia Farms launched a line of oat milk beverages, which have proteins from oats, peas and sunflower seeds. The company's "ubermilk" brand includes unsweetened vanilla, unsweetened and chocolate varieties.
Most of the company sales are almond milk products. The ingredients in vanilla almondmilk and other plant-based milks are all sustainably sourced and are dairy-free, soy-free, gluten-free, carrageenan-free, non-GMO and BPA-free.
The suggested retail price for the company's 10.5-ounce cold brew coffee is $2.99 to $3.29, although there is a nitro cold brew priced at $3.99. The company will soon be offering a shelf stable nitro coffee, Walter said.
The company's portfolio includes both refrigerated and shelf stable products. The refrigerated products are delivered 34 to 40 degrees Fahrenheit.
Products are packaged in glass bottles, aluminum cans, PET bottles and recyclable cartons.
Customers that meet volume requirements can buy product directly. The company ships from its production facility in Bakersfield, California, as well as distribution warehouses in the Northeast and Southeast, Walter said.
Plant-based beverages have created a huge space among the consumers who require nutrients in their regular diets. The non-dairy beverages are known to have high amount of minerals, vitamins, fibers, and other phytonutrients.
Plant-based beverages are widely used by the consumers who prefer a variety of flavors and taste in their milk. Also, there are people who are intolerant or allergic to dairy milk. For them, plant-based nutrients can be the best choice, giving all the required nutrients similar to that of dairy products.
For more information visit https://www.califiafarms.com
---

Home | NEW PRODUCTS | Vending Newsletter sign up | Contact us | email press release
Also see: Beverages, Coffee, Cold Brew, Snacks, Foods, Brokers, Chips, Nuts, Energy Drinks, Energy bars, Fruit Snacks, Meat Snacks, Salty Snacks, Candy, Trail Mix, Gluten Free, Healthy Snacks, Pastries, Cookies, Crackers, Foods, Hispanic Snacks,
Also see: Product Brokers, Product Distributors, Micro Markets | Vending Companies USA
VENDING YELLOW PAGES DIRECTORIES:
Call us at 1-800-956-8363 or POST YOUR COMPANY, GET NEW BUSINESS!