BIG AZ Protein-Packed Sandwiches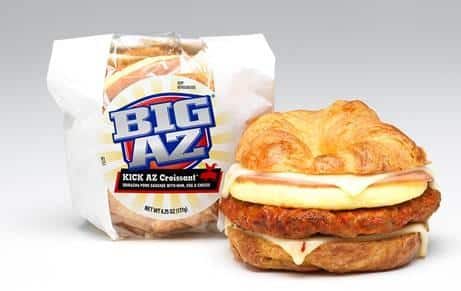 BIG AZ Sandwiches are made by Advanced Pierre Foods (a Tyson brand), BIG AZ Sandwiches are a convenient way for the average consumer to enjoy a hot and ready sandwich, while they are on-the-go.  
Each BIG AZ Sandwich is 6.2 ounces and offers just 21 grams of protein per serving and anyone who consumes one of these tasty sandwiches can have confidence that they are getting the protein that their bodies need in each serving.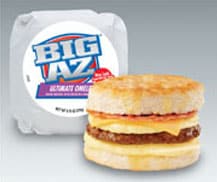 In today's world, most consumers want to enjoy breakfast all day. The good news is that with BIG AZ Sandwiches, they can have a hearty breakfast–style sandwich anytime that they want since these sandwiches can be enjoyed cold or hot. 
BIG AZ breakfast sandwiches are hand–assembled and offer three different varieties including Western Style Omelet Wrap, 2X Sausage And Cheese Biscuit, and their Biscuit Stacker. 
With ingredients like pepper jack cheese, ham, eggs, swiss cheese, and sriracha glazed sausage, it's easy to see why consumers enjoy these sandwiches because they taste great and offer the ingredients that people enjoy.  
Available in hand–wrapped packaging, or butcher paper, BIG AZ Sandwiches are an excellent way to start the day, or a convenient solution for consumers to get the protein that they want anytime.  
Hot and ready sandwiches continue to be in high demand in 2020 as consumers still want to have the convenience of a hot meal but with most restaurants closed (due to Covid-19), the average consumer can't get the hot and ready meal that they want.
To learn more about BIG AZ Sandwiches, visit their website at https://www.advancepierre.com/Brands/BIG-AZ.aspx.
By Jeremy Raglin, Editor
---

Home | NEW PRODUCTS | Vending Newsletter sign up | Contact us | SUBMIT PRESS RELEASE
Also see: Beverages, Coffee, Cold Brew, Snacks, Foods, Brokers, Chips, Nuts, Energy Drinks, Energy bars, Fruit Snacks, Meat Snacks, Salty Snacks, Candy, Trail Mix, Gluten Free, Healthy Snacks, Pastries, Cookies, Crackers, Foods, Hispanic Snacks,
Also see: Product Brokers, Product Distributors, Micro Markets | Vending Companies USA
VENDING YELLOW PAGES DIRECTORIES:
Call us at 1-800-956-8363 or POST YOUR COMPANY, GET NEW BUSINESS!