Biena Intros New Healthy Chickpea Snacks
Are chickpeas the latest healthy snack? The answer to this question is yes. Biena (pronounced Bee-yen-aah) now offers a new line of Chickpea Snacks. These snacks are the newest in a long line of "Better For You" snacks that have been entering the global snack food market in recent years. 
Biena Chickpea Snacks certainly qualify as being "Better For You" snack because each bag contains 5 grams of fiber, 5 grams of protein, plus other vitamins and minerals.  
Along with having high in fiber and protein, these snacks have added benefits of being gluten–free and grain–free, as well as Keto and Vegan diet compatible.
The Right Time For Chickpea Snacks 
According to recent data from the American Journal of Managed Care, we know that roughly 1.2% of the population in the United States has a nut allergy. 
The good news is that even though nut allergies exist, there are companies like Biena that are developing healthy snack foods that have the same flavors that consumers have grown accustomed to over the years including ranch, barbecue, and honey roasted. 
Founded by Poorvi Patodia, a Boston based entrepreneur, who recognized the need for nut–free snack alternatives in the market, she launched the company's first roasted chickpea snacks, and the rest is history.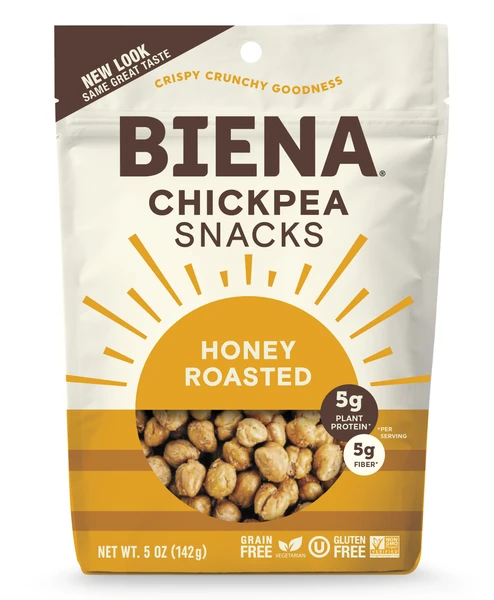 Available In More Than 15,000 Locations Nationwide 
Vending and Micro Market operators desiring to take on a new snack line will be able to capitalize on Biena's existing presence and promotion in retail and online outlets.
Since the company's launch in 2012, Biena has developed more varieties of their chickpea snack including honey roasted, ranch, barbecue, habanero, and sour cream & onion 
A Delicious Snack 
These "Better For You" snacks seemingly offer something for everyone because they are a crunchy snack that also will satisfy the craving for those iconic flavors that are in demand by consumers.  
In 2020, the company has gone from just making crunchy chickpea snacks to producing chickpea puffs that are low in carbs and pack plenty of flavors. 
To learn more about Biena visit their website today at https://bienasnacks.com/. 
Call 617-202-5210, or
email Hello@BienaSnacks.com
---

Home | NEW PRODUCTS | Vending Newsletter sign up | Contact us | SUBMIT PRESS RELEASE
Also see: Beverages, Coffee, Cold Brew, Snacks, Foods, Brokers, Chips, Nuts, Energy Drinks, Energy bars, Fruit Snacks, Meat Snacks, Salty Snacks, Candy, Trail Mix, Gluten Free, Healthy Snacks, Pastries, Cookies, Crackers, Foods, Hispanic Snacks,
Also see: Product Brokers, Product Distributors, Micro Markets | Vending Companies USA
VENDING YELLOW PAGES DIRECTORIES:
Call us at 1-800-956-8363 or POST YOUR COMPANY, GET NEW BUSINESS!