Teatulia Organic Teas Introduces Tea Sodas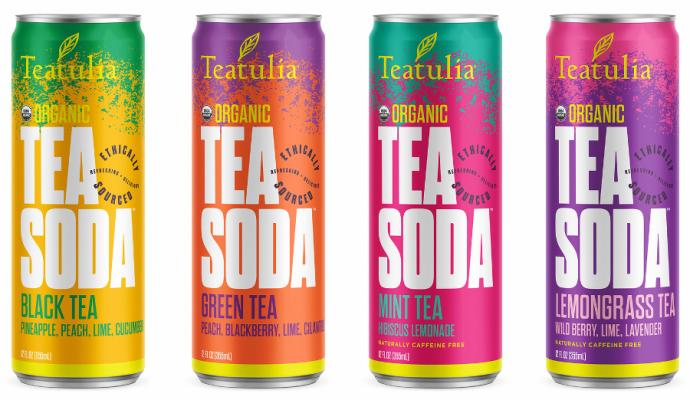 Teatulia Organic Tea has introduced four ready-to-drink tea sodas featuring distinctive fruits and herbs, lightly sweetened, and with just the right amount of bubbly fizz in 12-ounce cans.
With just 16 to 20 grams of sugar per serving, the tea sodas are designed to appeal to customers looking for tea, soda or even sparkling water. The teas are available in flavor combinations based in black tea, green tea, lemongrass tea and even mint tea.
Teatulia uses a business model to cultivate organic tea and seeks to positively impact all stakeholders from garden to cup/glass/can, improving the world's condition.
Black tea includes pineapple, peach, lime and cucumber.
Green tea includes peach, blackberry, lime and cilantro.
Mint tea has hibiscus lemonade and is caffeine-free.
Lemongrass tea has wild berry, lime and lavender, and is also caffeine-free.
For more information visit https://www.teatulia.com/tea-soda/
---

Home | NEW PRODUCTS | Vending Newsletter sign up | Contact us | email press release
Also see: Beverages, Snacks, Foods, Brokers, Chips, Nuts, Energy bars, Fruit Snacks, Meat Snacks, Salty Snacks, Candy, Trail Mix, Gluten Free, Healthy Snacks, Pastries, Cookies, Crackers, Foods, Hispanic Snacks,
Also see: Product Brokers, Product Distributors, Micro Markets | Vending Companies USA
VENDING YELLOW PAGES DIRECTORIES:
Call us at 1-800-956-8363 or POST YOUR COMPANY