Poland Spring Brand Natural Spring Water Unveils Six Refreshing Sparkling Flavors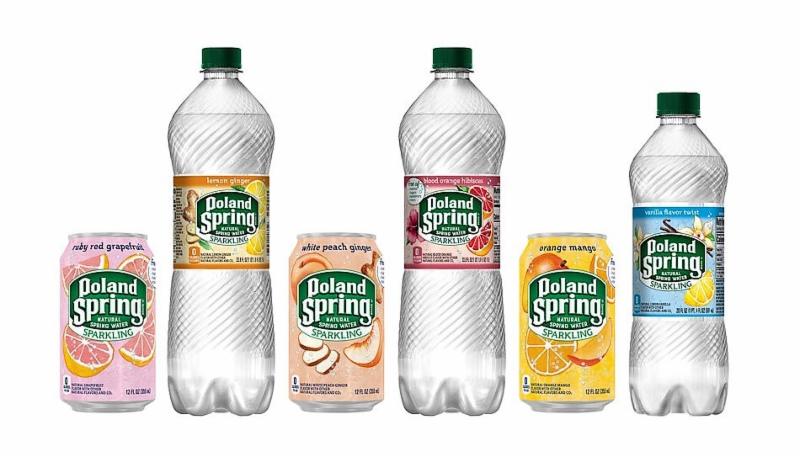 Sparkling water enthusiasts can now enjoy flavorful new fizzy experiences made from 100 percent natural Maine spring water, thanks to the expansion of the line of Poland Spring flavored sparkling waters.
The brand recently introduced its expanded line-up, which includes six new flavors that meet consumers' demand for exciting bubbly options and alternatives to sugary beverages.
The new Poland Spring Sparkling varieties feature unique flavor profiles that tap into trending tastes, including Ruby Red Grapefruit, Lemon Ginger, White Peach Ginger, Blood Orange Hibiscus, Orange Mango and Vanilla Flavor Twist. In fact, a growing appeal for floral flavors among consumers landed hibiscus as 2019's  "flavor of the year," while lemon and grapefruit are among the top three sought-after sparkling flavors.
Poland Spring Sparkling is made from 100 percent natural spring water from Maine, real fruit flavors and refreshing bubbles.
"After the incredibly positive response to the 2018 relaunch of Poland Spring Sparkling, we are excited to maintain momentum with new flavor options," said Yumiko Clevenger-Lee, vice president and chief marketing officer of Nestlé Waters North America. "As we continue to expand our portfolio of unique and healthy sparkling offerings, our core focus remains unchanged and unmatched; simple ingredients starting with the 100 percent natural spring water Poland Spring has been known for since 1845."
The six newest flavors add to the existing line of refreshing Poland Spring Sparkling flavors, which also includes: Lively Lemon, Lemon Lime, Zesty Lime, Orange, Triple Berry, Summer Strawberry, Raspberry Lime, Black Cherry, Pomegranate Lemonade and Simply Bubbles. All Poland Spring Sparkling offerings are sugar-free, calorie-free and contain no sweeteners or colors.
New Poland Spring Sparkling will be available later this month in a mix of three bottle sizes – 20 ounce, 1 liter, and 0.5 liter (8 packs) – as well as 12-ounce cans (8 packs).
For more information visit https://www.polandspring.com/
---

Home | NEW PRODUCTS | Vending Newsletter sign up | Contact us | email press release
Also see: Beverages, Snacks, Foods, Brokers, Chips, Nuts, Energy bars, Fruit Snacks, Meat Snacks, Salty Snacks, Candy, Trail Mix, Gluten Free, Healthy Snacks, Pastries, Cookies, Crackers, Foods, Hispanic Snacks,
Also see: Product Brokers, Product Distributors, Micro Markets | Vending Companies USA
VENDING YELLOW PAGES DIRECTORIES:
Call us at 1-800-956-8363 or POST YOUR COMPANY