Made Good Foods Offers Vegan, Organic Vanilla Crispy Squares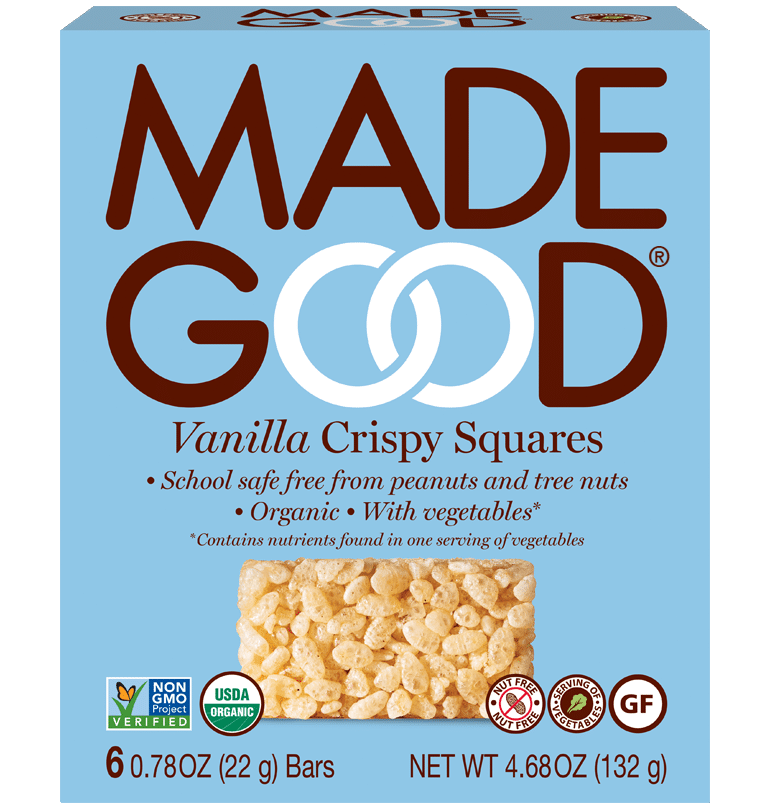 Vanilla Crispy Squares from Made Good Foods are organic rice snacks containing nutrients from six different vegetables: spinach, broccoli, carrots, tomatoes, beets and shiitake mushrooms. Ingredients also include crisp rice, cane sugar, sustainable palm fruit oil, inulin, vegetable glycerin, tapioca flour, sea salt and vanilla flavor.
The 4.68-ounce bars are safe for schools since they do not include peanuts and tree nuts. The snacks are certified vegan and gluten free.
Made Good Foods products are produced using an accredited zero waste production facility. The company supports community organizations that improve the lives of children through nutrition, medical support and education.
Made Good Foods products are available from vend product distributors and foodservice distributors.
For more information visit https://madegoodfoods.com.
---

Home | NEW PRODUCTS | Vending Newsletter sign up | Contact us | email press release
Also see: Beverages | Snacks | Foods | Brokers | Chips, Nuts, Energy bars, Fruit Snacks, Meat Snacks, Salty Snacks, Candy, Trail Mix, Gluten Free, Healthy Snacks, Pastries, Cookies, Crackers, Foods, Hispanic Snacks,
Also see: Product Brokers, Product Distributors, Micro Markets | Vending Companies USA
VENDING YELLOW PAGES DIRECTORIES:
Call us at 1-800-956-8363 or POST YOUR COMPANY