J&J Snack Foods Corp. Introduces Loop Style Churros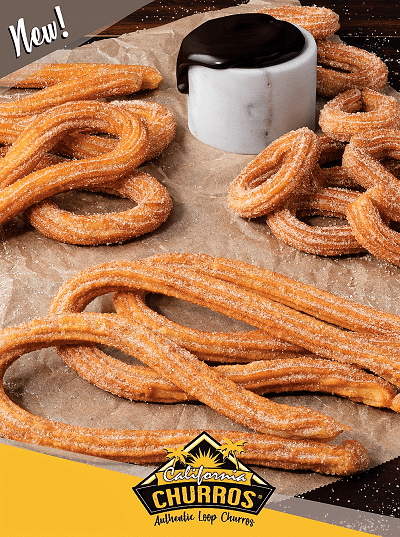 J&J Snack Foods Corp. has introduced loop style California Churros that take the churro back to its original European style. With new churro equipment imported from Spain, J&J Snack Foods is making churros that are more authentic to their true Spanish style than ever before. The sweet pastry dough rolled in cinnamon sugar is reminiscent of sitting outside at a café in the streets of Europe.
California Churros hand crafted loop churros are light and fluffy on the inside with a crispy exterior, similar to the traditional California Churros from J&J Snack Foods. These new churros create the perfect Instagrammable moment when dipped in chocolate, glazed with icing, rolled in sprinkles, or served with ice cream. California Churros Authentic Loop Churros are available via national foodservice distribution and are a simple addition to an upscale menu as a dessert, appetizer, or even coffee pairing.
According to Datassentials, churros on American menus have grown 38 percent in just the past four years.
For more information visit http://jjsnackfoodservice.com/our-products/churros/california-churros-loop-churros/
---

Home | NEW PRODUCTS | Vending Newsletter sign up | Contact us | email press release
Also see: Beverages, Snacks, Foods, Brokers, Chips, Nuts, Energy bars, Fruit Snacks, Meat Snacks, Salty Snacks, Candy, Trail Mix, Gluten Free, Healthy Snacks, Pastries, Cookies, Crackers, Foods, Hispanic Snacks,
Also see: Product Brokers, Product Distributors, Micro Markets | Vending Companies USA
VENDING YELLOW PAGES DIRECTORIES:
Call us at 1-800-956-8363 or POST YOUR COMPANY, GET NEW BUSINESS!