Hostess Brands Introduces Peanut Butter Ding Dongs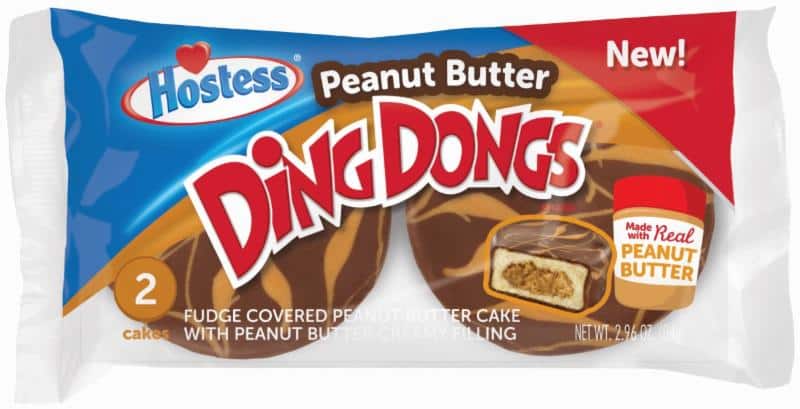 Hostess Brands, LLC, recently introduced Hostess Peanut Butter Ding Dongs, combining the sweet taste of peanut butter cake with a peanut butter creamy filling and then peanut butter drizzle over rich fudge. The fudge-covered snack is made with real peanut butter and follows recent innovations including Hostess Peanut Butter Ho Hos and
Hostess Chocolate Peanut Butter Twinkies.
"With household penetration and repeat buying households on the rise, the popularity of Ding Dongs is on an upward trajectory we can't ignore, and is a brand ripe for continued innovation," said Keith Peterfeso, brand director for all day snacking at Hostess Brands LLC.
Hostess Peanut Butter Ding Dongs are now available in outlets nationwide in single-serve and multi-pack formats. The 2.96-ounce single-serve pack includes two cakes.
For more information visit http://hostesscakes.com/products
---

Home | NEW PRODUCTS | Vending Newsletter sign up | Contact us | email press release
Also see: Beverages, Snacks, Foods, Brokers, Chips, Nuts, Energy bars, Fruit Snacks, Meat Snacks, Salty Snacks, Candy, Trail Mix, Gluten Free, Healthy Snacks, Pastries, Cookies, Crackers, Foods, Hispanic Snacks,
Also see: Product Brokers, Product Distributors, Micro Markets | Vending Companies USA
VENDING YELLOW PAGES DIRECTORIES:
Call us at 1-800-956-8363 or POST YOUR COMPANY