Emoji Enters Licensing Agreement With Hershey For Limited Edition Milk Chocolate Bar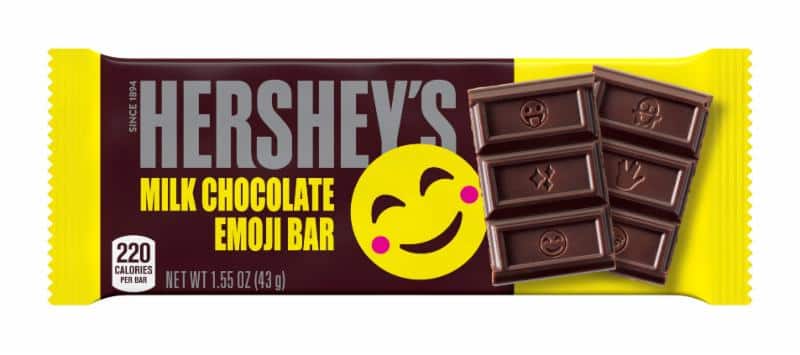 The emoji company has entered into a licensing agreement with The Hershey Company with regard to emoji company's registered emoj trademark. The agreement covers the Hershey's brand launch of a limited edition Hershey's Milk Chocolate Emoji Bar this summer. The product will be available nationwide throughout summer 2019.
The Hershey's Milk Chocolate Emoji Bar will feature 25 different images on each chocolate piece. Select images featured include the excited heart eyes face, thumbs up, kissing lips, wink, sunglasses smile heart and more.
A Hershey Company spokesperson said the Milk Chocolate Emoji Bar will be available nationwide as a part of the back to school season for as long as supplies last.
"We are delighted about this licensing agreement with The Hershey Company," said Marco Hüsges, CEO and founder of the emoji company. "We are proud to add this chocolate agreement between Hershey and the emoji brand!"
For more information visit https://www.thehersheycompany.com/
---

Home | NEW PRODUCTS | Vending Newsletter sign up | Contact us | email press release
Also see: Beverages, Snacks, Foods, Brokers, Chips, Nuts, Energy bars, Fruit Snacks, Meat Snacks, Salty Snacks, Candy, Trail Mix, Gluten Free, Healthy Snacks, Pastries, Cookies, Crackers, Foods, Hispanic Snacks,
Also see: Product Brokers, Product Distributors, Micro Markets | Vending Companies USA
VENDING YELLOW PAGES DIRECTORIES:
Call us at 1-800-956-8363 or POST YOUR COMPANY, GET NEW BUSINESS!