DiMario Foods Offers All Natural, Family Recipe Alternative To Fast Growing Meat Snack Category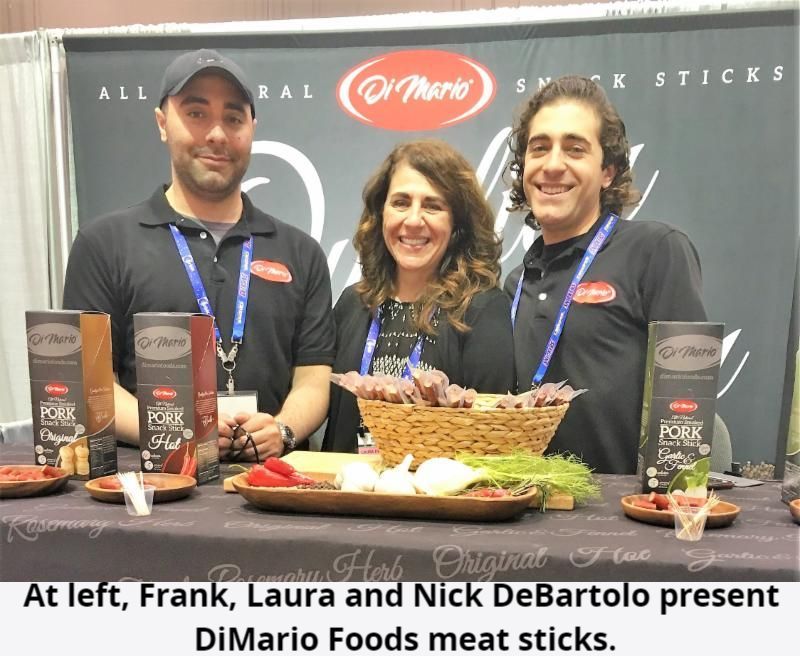 Meat snacks, which offer convenience, high protein and low calories, are expected to grow 9 percent every year through 2023, according to Mordor Intelligence. While the category, is highly competitive, a relative newcomer, DiMario Foods, believes its all-natural family recipe gives it a chance to become a dominant player in a segment that is highly favored by millennials.
Company co-founder Nick DeBartolo remembers making sobrasadas, a pork-based salami, with his grandfather growing up. That was years before DeBartolo, along with his twin brother, Frank, sister, Alyssa, and  their parents, Mario and Laura, decided to start a meat stick manufacturing business in 2012 in Oak Brook, Ill. The company name, DiMario, means "house of Mario" in Italian.
"We had this lifelong apprenticeship of making deli meat and curing deli meat. Our sticks were pretty much the offspring of that," Nick DeBartolo said. "We used the exact same recipe that we used for our mild and hot sobrasadas."
"The sticks were just our way of being able to continue that legacy, and  a way for us to share part of our heritage with other people," he said.
DiMario Foods achieves extended product shelf life by using a natural version of sodium nitrate that includes celery powder. "The nitrates and nitrites are derived from these green plants," he said. "We are using the natural version of that."
The company helped its co-packers develop a smoking, air curing process to keep the flavor as close to the sobrasada as possible.
Products are certified all natural and gluten free, and include original premium pork, hot premium pork, garlic and fennel pork and rosemary herb chicken.
"Since the company has been exhibiting at shows, some of the larger meat snack companies have responded with their own versions of Italian salami sticks," DeBartolo said.
"DiMario Foods was the first to introduce a 100 percent pork stick with no filler proteins," he said.
"Pork was the main protein source for these different deli meats and it's what we stuck with," he said.
The company was also first to the first to offer rosemary herb meat snack causing some larger companies to follow suit.
The chicken stick was inspired by a Calabrian chicken dish DeBartolo's grandmother made.
"We have a book of all these recipes that have stood the test of time," DeBartolo said. "We speak softly and let the product speak for itself."
DeBartolo got some help early on from a marketing professor from the University of Chicago Booth School of Business while DeBartolo was interning at the technology cooperative 1871 in Chicago. The professor chose the company as a case study for his MBA students even though it was not a technology company. The program helped the company establish price points and a marketing strategy.
The company's biggest footprint to date for its 10-inch long meat sticks has been convenience stores, working with McLane and other distributors. They have also found success in micro markets.
The meat snack category continues to expand, DeBartolo said. While there a lot of large players in the market, he sees a place for smaller players like himself.
"We didn't think about anything but that we had the sobrasadas that family and friends wanted more of every year," he said.
The company's goal is to create a positive impact on the meat snack category.
"We're looking to offer an alternative to people who are looking for a product such as ours," he said. "In a fast-paced world, there are so many distractions, there's so much going on today, we just keep things very simple. I think that's our biggest differentiator."
The product is available by the case from distributors and direct from the company.
For more information visit https://www.dimariofoods.com/collections/products
---

Home | NEW PRODUCTS | Vending Newsletter sign up | Contact us | email press release
Also see: Beverages, Snacks, Foods, Brokers, Chips, Nuts, Energy bars, Fruit Snacks, Meat Snacks, Salty Snacks, Candy, Trail Mix, Gluten Free, Healthy Snacks, Pastries, Cookies, Crackers, Foods, Hispanic Snacks,
Also see: Product Brokers, Product Distributors, Micro Markets | Vending Companies USA
VENDING YELLOW PAGES DIRECTORIES:
Call us at 1-800-956-8363 or POST YOUR COMPANY