Bare Snacks Launches Strawberry Banana Chips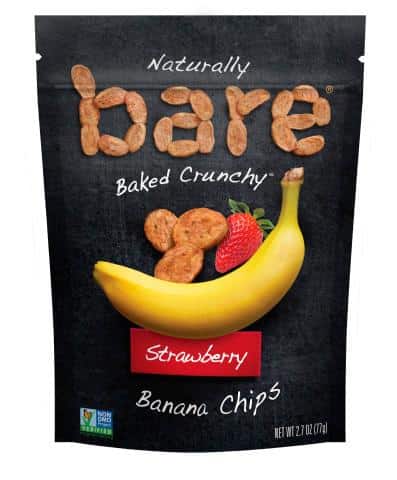 Bare Snacks, the creator of Snacks Gone Simple, has announced its new bare Strawberry Banana Crisps. Combining two fruits into one snack, bare Strawberry Banana Chips join the brand's line of oil-free banana chips.
Inspired by the classic smoothie flavor, the snack starts with fresh, ripe bananas that are slowly baked and lightly dusted with crushed strawberries, with no added oil or sugar and nothing artificial. The snack comes in a resealable bag.
"Strawberry banana is a classic flavor combination, and we wanted to make it snackable," said Santosh Padki, chief executive officer at Bare Snacks. "What's exciting about this new snack is we're combining the naturally sweet taste of fresh bananas and strawberries in a satisfying form that has a unique crunch factor. Unlike other banana chips, our chips are baked, not fried, without any added oil. Plus, they're made with just two ingredients – strawberries and bananas – that's it!"
Like bare's existing banana chip flavors, including Simply and Cinnamon, bare Strawberry Banana Chips are non-GMO project verified, gluten free, fat free and a source of fiber.
The new line joins bare's portfolio of "Snacks Gone Simple," including new Beet Chips, Carrot Chips and Sweet Potato Chips, as well as Apple Chips, Banana Chips and Coconut Chips.
For more information visit https://baresnacks.com/, 800-940-0019.
---

Home | NEW PRODUCTS | Vending Newsletter sign up | Contact us | email press release
Also see: Beverages | Snacks | Foods | Brokers | Chips, Nuts, Energy bars, Fruit Snacks, Meat Snacks, Salty Snacks, Candy, Trail Mix, Gluten Free, Healthy Snacks, Pastries, Cookies, Crackers, Foods, Hispanic Snacks,
Also see: Product Brokers, Product Distributors, Micro Markets | Vending Companies USA
VENDING YELLOW PAGES DIRECTORIES:
Call us at 1-800-956-8363 or POST YOUR COMPANY