Chowbotics Introduces Sally the Salad Robot Vending Machine

Sally the Salad Robot creates custom salads with up to 21 seasonal ingredients – replenished daily – in less than a minute, any time of day. Developed by food robotics company Chowbotics, Sally is intuitive and easy to use. Users place a bowl beneath the dispenser, make selections on a touchscreen interface and watch as Sally's canisters shift to drop each ingredient in, one by one. Charlie Ayers, "the chef who fed Google," is Executive Chef. He created Sally's signature salads and oversees ingredient selection.
"Having spent my career in Silicon Valley, the intersection of food and technology has always fascinated and inspired me," says Charlie. "I am proud to collaborate with the Chowbotics team to bring robotics to food service. This is the future."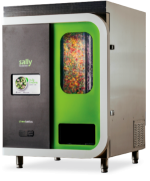 Charlie tapped his protégé, Kelly Olazar, to lead the day-to-day as Chowbotics' Chef de Cuisine. Kelly previously worked as an Executive Chef at Google's campus and as a Culinary Services Manager at Charlie's restaurant, Calafia Café. She has a background in nutrition and specializes in creating food that keeps people energized and healthy.
Sally's patent-pending canister system protects the integrity of the ingredients by keeping them fresh and sanitary. Precise calorie counts also allow users to build salads that suit their nutritional needs. Sally's small footprint is another bonus – she measures just 31.7″ x 33.2″. Sally allows for thousands of different combinations of ingredients or users can choose from the following:
Sally's Salad: Crisp romaine served with ripe cherry tomatoes, cucumbers, carrots, 

California

 walnuts, Parmesan cheese and house-made black peppercorn ranch
Power Chow Salad: Hearty kale served with carrots, cabbage, sundried cranberries, Parmesan cheese, 

California

walnuts and tangy honey mustard vinaigrette
Chicken Bot Salad: Seared chicken breast served with crisp romaine, cherry tomatoes, red onions, Parmesan cheese and house-made black peppercorn ranch
Silicon Valley Salad: Seared chicken breast served with hearty kale, mixed bell peppers, Kalamata olives, cucumbers, crunchy wonton chips and tangy honey mustard vinaigrette
California Love Salad: Hearty kale served with ripe cherry tomatoes, mixed bell peppers, cucumbers, Kalamata olives and croutons
One of the first locations to pilot Sally is Galvanize, a tech-centric shared workspace. "At Galvanize, we are committed to investing in technology and education that is accessible to anyone with the determination and drive, ability and aptitude to learn the skills they need to not only transform their lives but also their communities," says Jim Deters, CEO. "That is why we invested in Chowbotics through our venture arm and are thrilled to be one of the first to deploy Sally at our San Francisco campus. This innovative technology is creating additional options for people to access nutrition and enhance productivity while they learn, work and grow."
Sally is available for pre-orders now. Target locations include cafeterias, restaurants, hotels and other commercial venues. (650) 362-3700, info@chowbotics.com
SOURCE Chowbotics
---

| Home | Vending Technology News | More News | Vending Newsletter sign up | Questions? Contact us | email press release
Also see: Software Companies | Technology Companies | Micro Markets | Distributors | Machine Manufacturers | Vending Companies USA
VENDING YELLOW PAGES DIRECTORIES:
Call us at 1-800-956-8363 to POST YOUR COMPANY, or QUESTIONS?