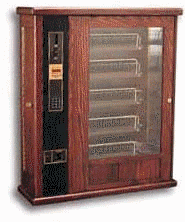 1-866-580-3328
You can Wall Mount our durable CIGARETTE vending dispenser almost anywhere. ATTRACTIVE DESIGN, RELIABLE, and EASY TO USE!
Actual size is 37'H X 32'W X8"D. ***Only 3 feet tall ***Available in Many colors.
CALL 1-866-580-3328 TODAY for FACTORY DIRECT pricing and Warranty with the Manufacturer!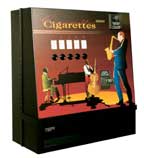 The Mark X, Continental, and Cigar Shoppe can be fitted with a MEI Coin Mech, Bill Validator, Credit Card Processor, or Coupon Reader. Our machines can dispense cigarettes, cigars, condoms, feminine products, to hotel ammenities to name a few.


Also see our special pricing on this MV5 cigarette vending machine.
For more information visit our website at: www.slimlinedesigns.com/products.html, or email info@slimlinedesigns.com, or Toll Free 1-866-580-3328.