Automated Retail Pioneer Develops Solution Offering More Extensive Performance Data
By Jeff Adair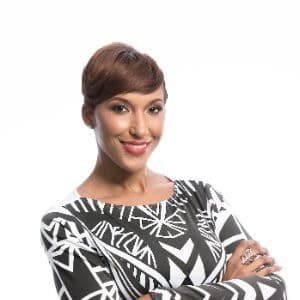 Dawn Dickson has learned first hand about the demand for automated retailing. She has also learned that for automated retailing to be successful, the machines need software that can deliver comprehensive information about customers and customer traffic.
At this month's NAMA OneShow in Las Vegas, Dickson will be demonstrating the automated retailing solution she has developed over the last several years.
Dickson got into vending in 2011 with a machine called Flat Out Of Heels, which sold flat shoes for women on the run. She placed the machines, which sold shoes for $20 and accepted credit cards, in airports.
Unlike most vending newbies, Dickson decided against using commercially available vending machines. Operating under the name, Solutions Vending International, she had a machine built to her own specifications.
The machine got people's attention. Dickson started receiving requests from companies that wanted to use her machines to sell consumer products. While she recognized there was a demand for automated retailing, she was not satisfied with the vending software that was available.
A Software Pioneer
The vending management software available at the time only managed internal machine functions. Dickson felt it was important to also measure how many customers came to the machine and how many bought from the machine.
She decided to develop the software herself.
Dickson began raising funds, and eventually participated in two accelerator programs — Techstars and Canopy. She eventually raised close to $1 million.
Dickson's PopCom software allows the vending machine operator to measure customer conversion rates. It also provides demographic data and data on traffic patterns.
The machine also features facial recognition and sentiment recognition.
The facial recognition software, provided by Kairos, allows for customer age verification, which enables the machine to sell products that have age requirements.
The vending operator can access data in the cloud and monitor reports in real time.
The software allows remote management of pricing and promotions. It also enables customer relationship management campaigns.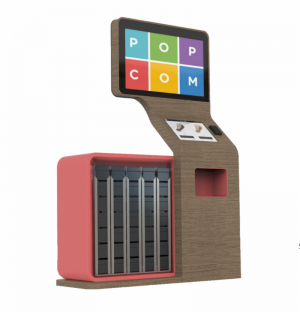 While Dickson has developed her own self-serve kiosk, called PopShop, her PopCom software can be used in existing vending machines.
A Versatile Vending Machine
Dickson's PopShop machine features a touchscreen the customer uses to shop the machine's inventory and make a purchase. The touchscreen can also carry information about the products and feature advertising.
Companies that have already expressed an interest in Dickson's machines include suppliers of apparel, jewelry, hair extensions, umbrellas and more.
Dickson could also become one of the first self-service manufacturers to offer bitcoin acceptance. She is in the process of securing a cryptocurrency processor.
The machine will accept credit cards, digital payments, bitcoin and possibly other cryptocurrencies.
Dickson said her solution will be especially helpful for e-commerce retailers who are looking to offer a physical self-serve solution for their products.
She believes vending operators and manufacturers have to do a better job keeping up with the technology that consumers are becoming comfortable with, which includes self service.
For more information visit https://popcom.shop/
---

Vending Technology News | More News | Vending Newsletter sign up | Questions? Contact us | email press release
Also see: Software Companies | Technology Companies | Micro Markets | Cashless Vending | Distributors | Classified Ads | Home |
VENDING YELLOW PAGES DIRECTORIES:
Call us at 1-800-956-8363 to POST YOUR COMPANY, or QUESTIONS?