The Locker Network Succeeds by Leaps and Bounds at the IATP Show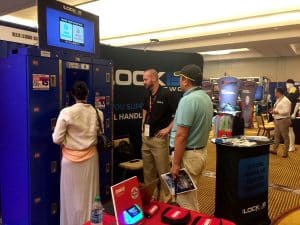 Dallas, TX, October 2017 – The Locker Network displayed its keyless electronic locker system at the International Association of Trampoline Parks (IATP) Show last month in Mission Hills, CA. Attendees
needing a secure storage solution for their park guests were eager to see the state-of-the-art system that The Locker Network provides and learn more about its robust reporting and revenue tracking features.
Sales Manager for The Locker Network, Rustin Wright said, "IATP was a fantastic show for us. As trampoline parks grow, they see a need for more sophisticated storage solutions than cubbies or keyed
lockers. As we've seen at premiere parks such as Velocity Air Sports and Top Jump, our lockers are a perfect fit for that type of venue."
For more information on the International Association of Trampoline Parks, visit
www.indoortrampolineparks.org.
Learn more and get a demo of the locker system at the upcoming World Waterpark Show in Palm Beach,
Booth 550.
About The Locker Network

The Locker Network, a subsidiary of Helix Leisure, is a leading manufacturer and supplier of advanced
keyless networked electronic locker systems to leisure and entertainment facilities worldwide. The Locker
Network draws on a legacy of 55 years of experience in the entertainment and game industry. The Locker
Network is chosen for their outstanding reliability, ease of use, high levels of security and comprehensive
support and monitoring. Incorporating the latest touch-screen technology, multi-payment and multilanguage
options and secure access control, your guests can rent a locker easily and quickly.
The Locker Network will help you to determine an optimum locker configuration and revenue model to suit
the needs of your location. Once installed, the exceptional durability and performance of the lockers
means very minimal to no staff supervision is required, allowing you to focus on your core business. For
more information, please visit www.thelockernetwork.com.
Follow Helix Leisure on LinkedIn for more updates: https://www.linkedin.com/company/helix-leisure
---

| Home | Vending Technology News | More News | Vending Newsletter sign up | Questions? Contact us | email press releases
Also see:  | Technology Companies | Photo Booths | Kiddie Rides | Crane Games | Amusement Coin-Operated Games | Amusement Distributors |
VENDING YELLOW PAGES DIRECTORIES:
Call us at 1-800-956-8363 to POST YOUR COMPANY, or QUESTIONS?