The Locker Network Adds to Sales Team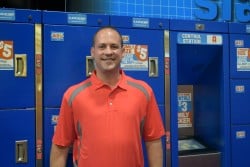 Dallas, TX, May 2017 – The Locker Network announces the expansion of their sales team with the addition of Rustin Wright as Sales Manager. Rustin will support the company in its continued growth into new and existing markets, including water parks, trampoline parks, theme parks, ski resorts, bowling and entertainment venues.
Rustin brings over 15 years of business development and outside sales experience to his new role. Most recently he worked in the medical industry for companies including AADCO Medical and Integrated Instrument Services. Rustin's responsibilities will include identifying new opportunities and partners while expanding and growing The Locker Network throughout the United States.
"I am excited to join The Locker Network team, and I look forward to using my sales experience and skills in relationship building to help successfully grow the company", says Rustin. Marshall Ashdown, Senior VP, adds "Rustin is joining The Locker Network at a very important time. The success of BOSS – our new locker software – has been phenomenal, and I am sure he is going to be very busy over the coming months. Rustin has a proven record of cultivating new markets and expanding existing accounts and he will be a great asset to the team." For more information, visit www.thelockernetwork.com.
About The Locker Network
The Locker Network, a subsidiary of Helix Leisure, is a leading manufacturer and supplier of advanced keyless networked electronic locker systems to leisure and entertainment facilities worldwide. The Locker Network draws on a legacy of 55 years of experience in the entertainment and game industry. The Locker Network is chosen for their outstanding reliability, ease of use, high levels of security and comprehensive support and monitoring. Incorporating the latest touch-screen technology, multi-payment and multilanguage options and secure access control, your guests can rent a locker easily and quickly. The Locker Network will help you to determine an optimum locker configuration and revenue model to suit the needs of your location. Once installed, the exceptional durability and performance of the lockers means very minimal to no staff supervision is required, allowing you to focus on your core business.
For more information, please visit www.thelockernetwork.com.
Follow Helix Leisure on LinkedIn for more updates: https://www.linkedin.com/company/helix-leisure
---

| Home | Vending Technology News | More News | Vending Newsletter sign up | Questions? Contact us | email press releases
Also see:  | Technology Companies | Photo Booths | Kiddie Rides | Crane Games | Amusement Coin-Operated Games | Amusement Distributors |
VENDING YELLOW PAGES DIRECTORIES:
Call us at 1-800-956-8363 to POST YOUR COMPANY, or QUESTIONS?