LAI Games Shows Hits at Inaugural Family Entertainment Expo in Italy Dallas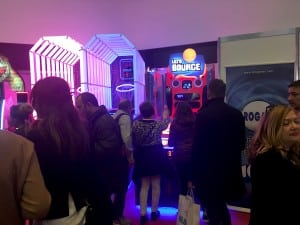 TX USA – April 2017 – LAI Games' new award-winners, Let's Bounce and HYPERshoot, were on display at the recent Family Entertainment Expo near Rimini, Italy. Held at the Palazzo dei Congressi in Riccione, the three-day expo was launched by the principle amusement game suppliers in the country as a showcase for non-gambling equipment.
LAI Games was represented by their distributor in the region, Faro Games, who also displayed the company's Shooting Mania. Steve Bryant, International Sales Manager for LAI Games said, "Considering how quickly arranged this event was, the attendance was very good and a testament to the requirements of a pure amusement show in Italy and the drive from the main players in the industry who wanted it."
HYPERshoot reinvents arcade basketball with its competitive speed play, plus an interactive light tunnel, unique hoop and real time sports commentary. Let's Bounce's attractive and addictive game play is exciting and great fun for all ages. Players get 20 balls to try to hit 45 tiles for a game that's easy to play, but challenging to master.
For more information and to see videos of the games, visit www.laigames.com.
About LAI Games LAI Games, a subsidiary of Helix Leisure, has been a leader in the interactive entertainment and game industry for over 50 years. The company develops, manufactures, and sells coin and card operated prize merchandising games, ticket redemption games, photo booths, kiddie rides, and video and novelty games. LAI Games is dedicated to bringing innovative and high incoming-producing games to the global market.
For more information, please visit www.LAIGames.com. Follow Helix Leisure on LinkedIn for more updates: https://www.linkedin.com/company/helixleisure
---

| Home | Vending Technology News | More News | Vending Newsletter sign up | Questions? Contact us | email press releases
Also see:  | Technology Companies | Photo Booths | Kiddie Rides | Crane Games | Amusement Coin-Operated Games | Amusement Distributors |
VENDING YELLOW PAGES DIRECTORIES:
Call us at 1-800-956-8363 to POST YOUR COMPANY, or QUESTIONS?