ICONS: THE JUKEBOX EXEC AND THE RECORDING ARTISTS REVERBERATE AT AMOA-NY
The Amusement And Music Owners Association of New York departed from its usual format at its Annual Gala held Tuesday, April 10th. The celebration has been held at a high-end steakhouse the past several years. Last night's 100 attendee event was held at Patrizia's, a famous NYC Italian restaurant where the platters of Italian food and huge wine bottles on the family-style tables were overflowing—a twelve course feast.
As AMOA-NY President Ken Goldberg (Emerson Amusement, Woodside, NY) described in his remarks: "I wanted to make a statement, to operators distributors and manufacturers who support our organization: 'AMOA-NY is FAMILY' and we put aside our competitive issues for this gala each year to benefit the strength and vitality of our industry."
Goldberg went onto to explain how: "It is important for all of us to join together, to work together, identifying any hazards which could potentially undermine and harm our sector, or on trying to bring about improvements so that all of us can prosper. As you know, the impact of technology on our industry has had enormous influence. Yes, we have had to address it, embrace it. Accept that business is always changing and evolving."
"America's cultural beliefs and attitudes on vices like tobacco, alcohol, and marijuana are in motion. These transforming conditions have influenced our operations. Gambling and gaming are in the process of altering the ways our sector does business. I do not want to raise false hopes or unwarranted expectations—but AMOA-NY has been working creatively, diligently on where we fit into the new gaming spectrum. We need to operate competitively to defend our economic interest and be pro-active in determining how there is a role for us going forward. As established corporations and entrepreneurs who bare a relationship to what we do, have pioneered into these new industry sectors, often with the collaboration of government—it amazes me how many of these parties continue demonstrating their desire to invade our marketplace…and try overtake or usurp our existing role and our revenues. I am sure you all know the issues I am describing in terms of your future and your ability to survive as a business owner. Remember, this is why you belong to AMOA-NY. AMOA-NY represents your best chance as a business owner to safeguard your interests. Again, we are FAMILY."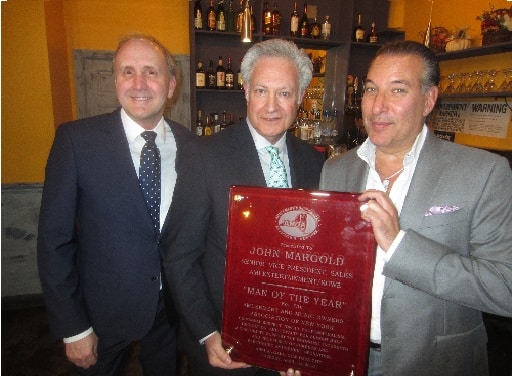 Appearing in Photo: AMI Entertainment's SVP-Sales John Margold (center) gets the "guest of honor" treatment at AMOA-NY's annual April 10th gala from AMI Entertainment CEO Michael Maas (left) and AMOA-NY President Ken Goldberg (Emerson Amusement)
Joining Ken Goldberg was AMI Entertainment CEO Michael Maas. Together they made the "guest of honor" presentation to John Margold, SVP-Sales for AMI Entertainment/Rowe, who has just observed his 43rd year as a career member of this industry. Margold, a universally known, popular jukebox figure was praised by Maas about his importance to the success of their company, "a valued team member for whom I have great respect and trust". Ken Goldberg said: "John has always made me believe that he is truly interested in how my business performs, and what he can do to support it."
With "jukebox artists of the year", again AMOA-NY departed from its past formats. April 10th became a "tribute to punk rock" defined by two of the icons who were leaders during that period, both of whom continue to perform before punk rock audiences today: Richard Handsome Dick Manitoba, lead of "The Dictators" and CJ Ramone, the last surviving member of the famous "Ramones".
Standing in front of the recently released 2018 AMI NGX Infinity Jukebox , both Manitoba and Ramone spoke with passion and personal conviction about being in the midst of leading a whole musical cult movement, an audience which continues today. Both Richard Manitoba and CJ Ramone continue to perform throughout the world as they enjoy a following. Both recording artists attested to what the jukebox meant to them in terms of contributing to their careers. CJ Ramone said that having the Ramones music on jukeboxes was a moment he aspired to as a young musician and it was one of his measurements of success.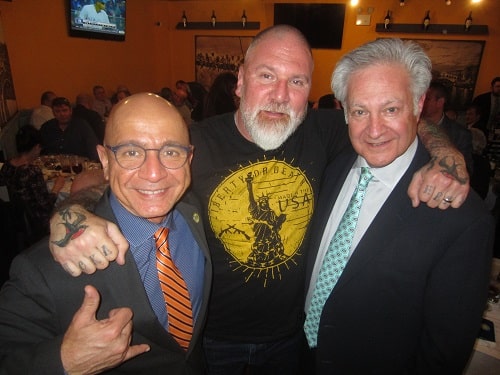 Appearing in Photo: CJ Ramone/The Ramones, the iconic punk rock group with Greater New York ATM Association President Jim Shrayef (Everything ATM) (left), and AMOA-NY's annual gala "guest of honor" John Margold (right), SVP-Sales, AMI Entertainment.
For more information visit AMOA
---

Home | Vending Technology News | More News | Vending Newsletter sign up | Questions? Contact us | email press release
Call us at 1-800-956-8363 or POST YOUR COMPANY