Herschend Family Entertainment Chooses The Locker Network for a Fourth Property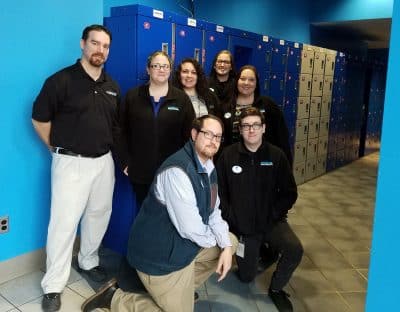 Dallas, TX, January 2018 – With the recent installation of its advanced electronic locker system at Adventure Aquarium in Camden, NJ, The Locker Network now provides guest security for four properties owned or operated by Herschend Family Entertainment (HFE). The company previously installed and manages lockers at Dollywood and Silver Dollar City theme parks and Splash Country water park for HFE. Adventure Aquarium upgraded their old keyed lockers to The Locker Network's keyless locker system, with a mix of single and family size lockers to accommodate guests' secure storage needs.
Herschend Family Entertainment, the largest family-owned themed attractions corporation, owns, operates and manages family-oriented theme parks and attractions across the US. Their team of more than 10,000 employees creates, develops and operates entertainment, tourism and hospitality properties that currently span 23 locations in six states. Located on the Camden Waterfront near Philadelphia, Adventure Aquarium is home to the largest collection of sharks on the East Coast, including the only great hammerhead shark on exhibit in the United States, is the only aquarium in the world to exhibit hippos, and one of only six facilities in the US to have Little Blue penguins as permanent residents. It also exhibits the longest Shark Bridge in the world, a unique V-shaped rope suspension bridge just inches over Shark Realm.
Brian Withers, Guest Services Manager for Adventure Aquarium said, "The Locker Network helped us by turning our lockers from a long-held guest negative into a guest positive by providing an incredibly user friendly and convenient product. They installed our lockers with almost no down time in our operating calendar, and the results we have seen since have been awesome both from a guest response and fiscal vantage point. I fully recommend them to anyone who is thinking about upgrading or looking to improve their guest experience."|
For more information, visit www.adventureaquarium.com.
About The Locker Network
The Locker Network, a subsidiary of Helix Leisure, is a leading manufacturer and supplier of advanced keyless networked electronic locker systems to leisure and entertainment facilities worldwide. The Locker Network draws on a legacy of 55 years of experience in the entertainment and game industry and is chosen for their outstanding reliability, ease of use, high levels of security and comprehensive support and monitoring. Incorporating the latest touch-screen technology, multi-payment and multi-language options, your guests can rent a locker easily and quickly.
The Locker Network will help you to determine an optimum locker configuration and revenue model to suit the needs of your location. Once installed, the exceptional durability and performance of the lockers means very minimal to no staff supervision is required, allowing you to focus on your core business.
For more information, please visit www.thelockernetwork.com.
---

| Home | Vending Technology News | More News | Vending Newsletter sign up | Questions? Contact us | email press release
Also see: Software Companies | Technology Companies | Micro Markets | Distributors | Machine Manufacturers | Vending Companies USA
VENDING YELLOW PAGES DIRECTORIES:
Call us at 1-800-956-8363 to POST YOUR COMPANY, or QUESTIONS?