Granby Ranch Ski Resort Upgrades Guest Security with The Locker Network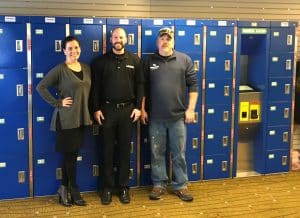 Dallas, TX, January 2018 – The Locker Network recently added another ski resort to its portfolio with a 100-locker installation at Granby Ranch ski resort in Granby, Colorado. The popular year-round destination replaced its aging keyed lockers with The Locker Network's secure, keyless electronic locker system in a mix of family and standard size lockers. The lockers were installed without cost to the resort on a revenue share plan and provide Granby Ranch ongoing revenue while The Locker Network takes care of day to day operation and management of the lockers.
Granby Ranch is a family-owned ski resort, designed for skiers and riders of all ages and abilities.
Situated against the mountainside, the resort provides a family friendly skiing experience in the winter,
and an extreme, adrenaline pumping, downhill mountain biking course in the summer. Granby Ranch
provides the ideal location for exploring Grand County and is a great place to enjoy the outdoors in a
family oriented environment.
Melissa Cipriani, CEO of Granby Ranch said, "The new lockers from The Locker Network at Granby
Ranch have been a great addition. The guests love the choice of two different size lockers and the easy
automated pay station. The lockers get a lot of use, positioned in our rental shop, and on our secondfloor
lobby just where the guests need to unload their belongings. Thank you, Locker Network, for making
our guest experience at Granby Ranch great."
For more information, visit www.granbyranch.com.
About The Locker Network
The Locker Network, a subsidiary of Helix Leisure, is a leading manufacturer and supplier of advanced
keyless networked electronic locker systems to leisure and entertainment facilities worldwide. The Locker
Network draws on a legacy of 55 years of experience in the entertainment and game industry and is
chosen for their outstanding reliability, ease of use, high levels of security and comprehensive support
and monitoring. Incorporating the latest touch-screen technology, multi-payment and multi-language
options, your guests can rent a locker easily and quickly.
The Locker Network will help you to determine an optimum locker configuration and revenue model to suit
the needs of your location. Once installed, the exceptional durability and performance of the lockers
means very minimal to no staff supervision is required, allowing you to focus on your core business. For
more information, please visit www.thelockernetwork.com.
Follow Helix Leisure on LinkedIn for more updates: https://www.linkedin.com/company/helix-leisure
---

| Home | Vending Technology News | More News | Vending Newsletter sign up | Questions? Contact us | email press release
Also see: Software Companies | Technology Companies | Micro Markets | Distributors | Machine Manufacturers | Vending Companies USA
VENDING YELLOW PAGES DIRECTORIES:
Call us at 1-800-956-8363 to POST YOUR COMPANY, or QUESTIONS?