Embed Honors Family Entertainment Group, Celebrates 14 th Collaboration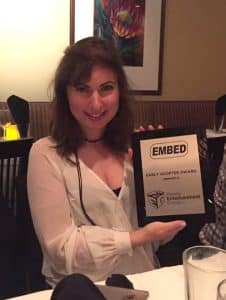 Dallas, TX, February 2017 – Embed recently honored Family Entertainment Group (FEG) with an Early Adopter Award and celebrated the completion of their 14th project together – Great Wolf Lodge in Colorado Springs. The award is given to long-time Embed customers in appreciation for their years of cooperation and support, as well as their help in evaluating and developing the features and functions that make Embed's innovative system what it is today.
FEG selected Embed's smartTouchTM Insert readers for the cashless operation of 93 games and attractions in the newest Great Wolf location. In addition to 12 Great Wolf Lodge properties, Embed and FEG have partnered on two other projects, Bonkers FEC and Key Lime Cove Indoor Water Park Resort.
Family Entertainment Group is a recognized industry-leader in game-room design, development, consulting, and operations. Owning and operating world-class, family oriented facilities, both nationally and internationally since 2004, they provide services and solutions for a wide array of industry sectors including amusement parks, bowling centers, casinos, FECs, hotels, movie theaters, restaurants, retail stores, waterparks, and more.
Silvia Lintner, Director of Revenue Management Services for Family Entertainment Group said, "Embed's development team really listens to the operators' day to day experience with the system and works diligently to make improvements that benefit the employees, enhance the customers' experience in a game room and ultimately increase revenue. Their unattended kiosk interface is impressive, allowing us to sell not only game credits but attractions and packages as well effectively advertise featured deals." She continued, "Their online consolidated reporting offers a significant advantage for an operator with multiple locations as it provides a convenient way to track sales and game performance in one place. Overall I am very happy to be partnered with Embed and look forward to continue helping them with future card system advancements." John Keys, Strategic Account Manager for Embed said, "Family Entertainment Group has been instrumental in providing real-world feedback on our latest version of software. The insights they have provided will benefit all Embed users in the future, and we're lucky to have them as a partner." For more information about Family Entertainment Group, visit www.fegllc.com.
About Embed Embed, a subsidiary of out-of-home entertainment leader Helix Leisure, provides the very best in Debit Card technology with industry leading Operating Software solutions for any entertainment facility. With offices in the USA, UAE, UK, Singapore, and Australia, they are committed to delivering seamless and elegant user experiences for their customers, backed by class leading customer support. Embed Systems allow for admissions control, machine monitoring, cashless operation of games and attractions, retail, food and beverage sales, loyalty systems, full prize redemption management, and integrated event scheduling. www.embedcard.com
Follow Helix Leisure on LinkedIn for more updates: https://www.linkedin.com/company/helixleisure
---

| Home | Vending Technology News | More News | Vending Newsletter sign up | Questions? Contact us | email press releases
Also see:  | Technology Companies | Photo Booths | Kiddie Rides | Crane Games | FEC | Amusement Coin-Operated Games | Amusement Distributors |
VENDING YELLOW PAGES DIRECTORIES:
Call us at 1-800-956-8363 to POST YOUR COMPANY, or QUESTIONS?