Controversial Litigation bans the possession and use of coin-operated air machines for tire inflation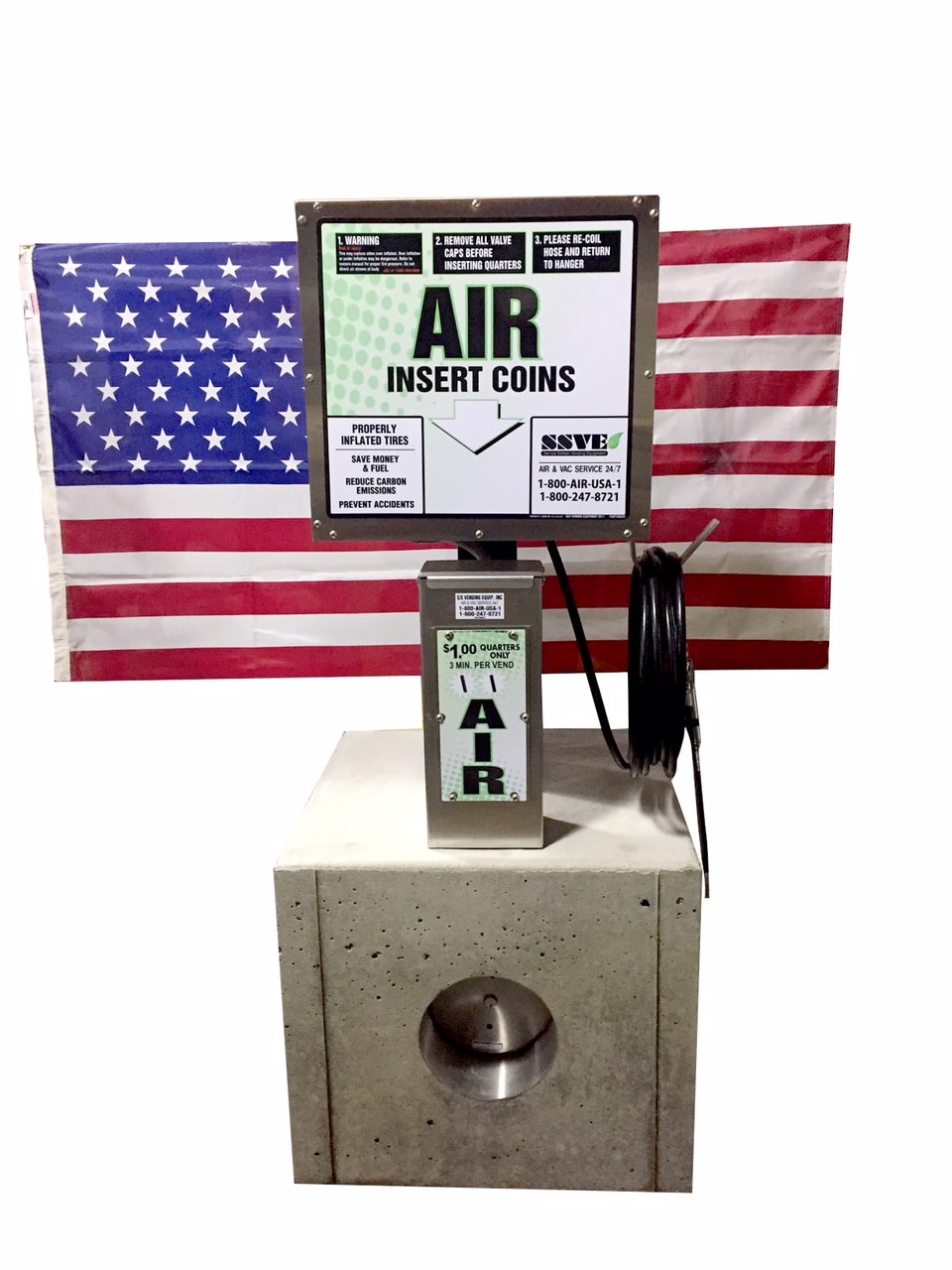 This litigation has been controversial in Hempstead, New York, the largest Town in America. It is relevant to tire pressure vending in municipalities across the nation. 
On January 2, 2018, New York State Supreme Court Justice Karen V. Murphy enjoined the Town of Hempstead from enforcing a law enacted by former Supervisor Anthony Santino's administration, which bans the possession and use of coin-operated air machines for tire
inflation. The new law would subject gas station owners to criminal charges, including imprisonment for up to 15 days and fines up to $10,000 per week, for charging a reasonable fee for compressed air, even though it is permitted by New York State law.
Small business owners and two trade associations that represent hundreds of independent gasoline services stations sued the Town of Hempstead — the nation's largest Town — to challenge the constitutionality of the law, which requires gasoline service stations to provide
compressed air for tire inflation to anyone without any charge. See McCabe v. Town of Hempstead, Index No. 6892/2016 (Sup. Ct. Nassau Co.).
In enjoining enforcement of the new law, Justice Murphy focused on the fact that the New York State law (General Business Law § 396-x), which requires gas stations to have compressed air machines, allows businesses to charge customers for that service. Justice Murphy cited to the doctrine of Preemption, which prohibits local laws that conflict with State laws or where the State has clearly evinced a desire to occupy an entire field of legislation. Justice Murphy found that the Plaintiffs met their burden for a preliminary injunction pending the
resolution of their lawsuit. In addition to the Preemption violation, the Plaintiffs' Complaint alleges a number of other compelling claims including that the new law, which requires business owners to provide a service without compensation, constitutes an unauthorized use of zoning and the Town's police powers to micromanage small businesses.
The Plaintiffs are not seeking any monetary damages from the Town. They even offered to provide and maintain, without any cost, a number of compressed air machines for use for free by the public on Town property. Nevertheless, at considerable cost to taxpayers, the Santino administration engaged outside counsel to defend this unconstitutional, unauthorized, and unnecessary law. Plaintiff William McCabe is the principal of Service Station Vending Equipment, Inc., a small family-run business in Floral Park, which manufactures, installs, and maintains coin-operated compressed air machines. Mr. McCabe fully intends on "defending this decision and will challenge similar laws in any other municipality."
Kevin Beyer, the Vice President of Governmental Affairs for the Long Island Gas Retailers Association, Inc. ("LIGRA"), another Plaintiff in the action, states: "I implore the new administration to repeal a law, such as this, from the bygone era of pointless Santino legislation at once. It has no legal foundation as we clearly see from Judge Murphy's ruling. The law also has no regard for small businesses based right here in the Town of Hempstead. And, motorists are still protected by the State law."
The Plaintiffs are represented by Erica Dubno, of Fahringer & Dubno. She can be reached at (212) 319-5351, erica.dubno@fahringerlaw.com.
William McCabe can be reached at (516) 807-2696, billmccabe@airusa1.com.
Kevin Beyer can be reached at (516) 343-2346, kevin@ligra.com.
Ralph Bombardiere, Executive Director of the Gasoline & Automotive Service Dealers
Association, Ltd. ("GASDA"), another Plaintiff in the action, can be reached at (518) 378-4228,
gasda1@cs.com.
Source: DANNY FRANK, NEW YORK STATE AUTOMATIC VENDING ASSOCIATION,  DANNYFRANK@COMCAST.NET, 212-279-1041, C-802-236-6831
---

| Home | Vending Technology News | More News | Vending Newsletter sign up | Questions? Contact us | email press release
Also see: Software Companies | Technology Companies | Micro Markets | Distributors | Machine Manufacturers | Vending Companies USA
VENDING YELLOW PAGES DIRECTORIES:
Call us at 1-800-956-8363 to POST YOUR COMPANY, or QUESTIONS?