Central Park Fun-Land Trusts Embed for Guest Access
Dallas, TX, October 2017 – Guests at Central Park Fun-Land in Fredericksburg, Virginia, can enjoy unlimited indoor and outdoor fun on the day of their visit and access all games and attractions with Embed's Playwave™ RFID-enabled wristbands. In January, Central Park Fun-Land replaced another card system with Embed, interfacing with premiere POS provider CenterEdge, and the park reports seeing a number of benefits for both staff and guests since installing the system.
Central Park Fun-Land features over 20 rides and attractions including laser tag, go-karts, miniature golf, batting cages, mini bowling, rock climbing and bumper cars, plus a massive arcade with over 100 video, ticket and prize games, all of which guests gain access to with a wristband or reloadable game card via Embed's smartTouch Swipe readers. The park also offers a Season Pass powered by CenterEdge with VIP cards that have a photo associated with them, so it's easy to identify pass holders and prevent
unauthorized use.
General Manager, Clint Novak said, "Since switching to Embed/CenterEdge and offering wristbands, we've seen a variety of benefits. Now my staff members know who has all-day access to our attractions by looking for a wristband. The system has cut down on theft, and is extremely popular with guests.
They like not having to carry anything extra with them, and are actually surprised to learn that there's a chip inside the lightweight wristbands. In fact, they're so popular we go through roughly 500 wristbands in a typical weekend."
Embed's Director of Sales, Matthew Harrison added, "Our wristbands are a perfect fit for venues like Central Park Fun-Land, and we're pleased they're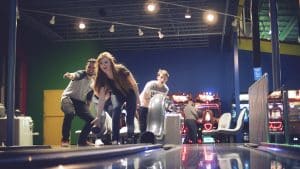 having so much success with them. We have a great range of reusable silicone and single-use Tyvek wristbands that are very competitively priced. All types of Playwave™ wristbands and media can be used on our smartTouch readers and offer operators real sales opportunities and flexibility when used alongside traditional magnetic cards."
For more information about Central Park Fun-Land, visit www.centralparkfunland.com.
About Embed
Embed, a subsidiary of out-of-home entertainment leader Helix Leisure, provides total operating solutions
for any entertainment facility, by utilizing their robust understanding of the industry which stems from
over 55 years of operating experience. With offices in the USA, UAE, Singapore, and Australia, they are
committed to delivering seamless and elegant user experiences for their customers, backed by class
leading customer support. Embed Systems allow for admissions control, machine monitoring, cashless
operation of games and attractions, retail, food and beverage sales, loyalty systems, full prize redemption
management, and integrated event scheduling. For more information, please visit www.embedcard.com.
Follow Helix Leisure on LinkedIn for more updates: https://www.linkedin.com/company/helixleisure
---

| Home | Vending Technology News | More News | Vending Newsletter sign up | Questions? Contact us | email press releases
Also see:  | Technology Companies | Photo Booths | Kiddie Rides | Crane Games | Amusement Coin-Operated Games | Amusement Distributors |
VENDING YELLOW PAGES DIRECTORIES:
Call us at 1-800-956-8363 to POST YOUR COMPANY, or QUESTIONS?