Apple introduced photo booths to the Middle East 8 years ago; now up to 4 Face Place Photo Booths are located in every FEC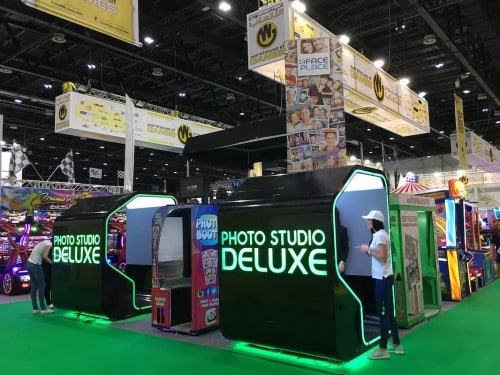 Greenvale, NY, April 6, 2017 – Photo booths are among the hottest amusement products in the Middle East and it was easy to see why at the Apple Industries space at this year's DEAL Show.  The Dubai Entertainments Amusement & Leisure Show is the Middle East's premier expo for the amusements industry (March 27-29, Dubai World Trade Center, United Arab Emirates: www.dealmiddleeastshow.com/2017/).
Apple displayed 5 different models of its popular Face Place Photo Booths…and regional operators simply couldn't get enough of them.  Featured units included the classic Ruby, with a compact footprint for limited-space environments, shown here for the first time.  Also displayed were the award-winning Photo Studio Deluxe, the innovative Scene Machine, and the popular Magazine Me.At DEAL, Apple is always front and center in the booth of its exclusive Mideast distributor, Warehouse of Games (
www.wogme.com
).
This year the "Apple Zone" in the Warehouse booth was 300% larger than last year to accommodate all the new products on display."Apple originally introduced photo booths to the Middle East region at DEAL back in 2009," said CEO Allen Weisberg.  "We are very proud of that fact, and we have been here every year since.  The Mideast market for photo booths has grown exponentially and now every FEC in this family-centered culture features anywhere from 2 to 4 different Face Place units.
Apple owns 100% of this marketplace and operators here are always eager to see our latest products."Apple's exclusive Mideast distributor, Warehouse of Games Ltd., is located in Dubai's Jebel Ali Free Zone, and is one of the largest distributors of amusement and vending equipment in the Middle East.  Owner and founder Nabil Kassim and sales & development manager Yuhanis Nawasreh are enthusiastic supporters of Apple, honoring the U.S. manufacturer with the Warehouse of Games Appreciation Award at DEAL 2016."Apple, Warehouse and the family-friendly FEC operators across the Middle East have forged an incredibly strong partnership," said Allen Weisberg.  "Together we have shown the world what Face Place can do, and we look forward to many years of additional growth and success to come!"
---

| Home | Vending Technology News | More News | Vending Newsletter sign up | Questions? Contact us | email press releases
Also see:  | Technology Companies | Photo Booths | Kiddie Rides | Crane Games | Amusement Coin-Operated Games | Amusement Distributors |
VENDING YELLOW PAGES DIRECTORIES:
Call us at 1-800-956-8363 to POST YOUR COMPANY, or QUESTIONS?