Apple Industries Now Has License to The Three Stooges
Apple Industries Now Has License to The Three Stooges®
C3 Entertainment Licenses The Three Stooges® to Apple Industries' Face Place for Digital Photo Booths Using Smile 2.0 Technology Social Media Sharing.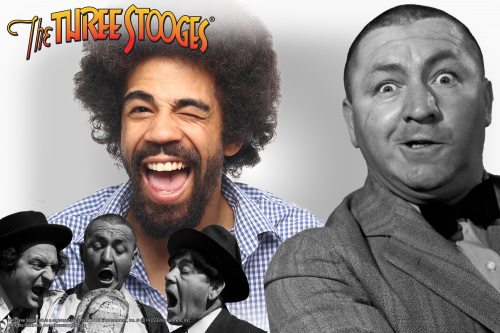 C3 Entertainment, Inc. announced the addition of Apple Industries, Inc. as a licensee for The Three Stooges® brand for digital Photo Booths.
Ever wanted a photo op with Larry, Moe and Curly? This is your chance. Fans can now take their photo with The Boys in Apple Industries Face Place Photo Booths. Face Place Photo Booths are the only photo booth on the market capable of sharing pictures to Facebook and Twitter INSTANTLY from inside the booth!
For nearly 50 years Apple Industries and their Face Place moniker has been an award-winning manufacturer of the most technically advanced, popular and profitable photo booths in the world in the pay-for-play amusement industry.
Featuring frames with iconic images of Larry, Moe and Curly, The Three Stooges 4×6 photo strips and 4×6 & 6×9 single photos will be available worldwide in Face Place Photo Booths.
Say: "Moe, Larry, the CHEESE!" – Face Place Smile 2.0 technology allows customers to share their photos with friends and family by instantly uploading to Facebook, Twitter, or by e-mailing directly from the photo booth.
"The advancements that Apple Industries and Face Place has done with photo booths is amazing," says Ani Khachoian, C3's Executive Vice President of Licensing, Merchandising, and Distribution. "With The Three Stooges massive online and social media presence, I believe fans with love taking their digital pix to the next level nuking it up with Larry, Moe and Curly."
Find out how your business or event can get a Face Place Photo Booth with The Three Stooges! https://faceplacephoto.com/
"Photo booths are a nostalgic part of our culture, and I couldn't be more excited to add one of the most iconic brands in American history, The Three Stooges, to our fleet of Face Place Photo Booths," said Apple Industries/Face Place CEO, Allen Weisberg. "We're looking forward to creating entertaining experiences for our customer base by utilizing the sights and sounds from the 'Knuckhleads' that have entertained us for decades. Look for us to debut this content at the IAAPA Attractions Expo 2017″, added Weisberg. "This is one of a few surprises we'll debut at IAAPA in two weeks", said Apple Industries/Face Place COO Scott Avery.  "Come to booth #1600 to experience 'the boys' in our product lineup, including Photo Studio Deluxe!"
Don't Forget To Smile,
Apple Industries, Inc.
---

| Home | Vending Technology News | More News | Vending Newsletter sign up | Questions? Contact us | email press releases
Also see:  | Technology Companies | Photo Booths | Kiddie Rides | Crane Games | Amusement Coin-Operated Games | Amusement Distributors |
VENDING YELLOW PAGES DIRECTORIES:
Call us at 1-800-956-8363 to POST YOUR COMPANY, or QUESTIONS?