365 Retail Markets to Host 4th Annual MEET User Group Conference in Las Vegas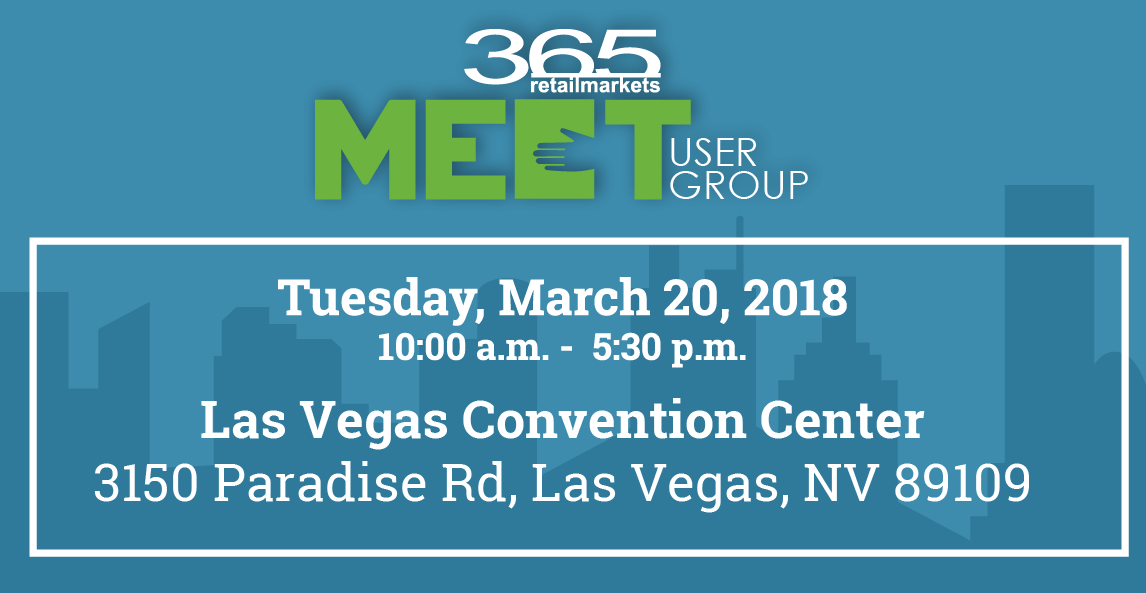 365 Retail Markets to host user group conference, prior to NAMA Show.
Troy, MI—January 22, 2018—365 Retail Markets is pleased to announce that the 4th annual MEET User Group Conference will be held on Tuesday, March 20th at the Las Vegas Convention Center
The MEET event will Motivate, Educate, Entertain and Train current and future 365 customers from around the globe to operate more efficient and profitable MicroMarkets using 365's award-winning technology. Following the education and training sessions, attendees will also get an exclusive first look at the latest products to launch from 365.
"We see self-checkout in the Convenience Services space expanding to millions of global locations," said Joe Hessling, 365 Retail Markets' CEO, "The 365 Connected CampusSM technology platform enables our customers to take advantage of this opportunity and the MEET event is a great way to brainstorm on the future and share what we already offer."
The comprehensive education and training sessions have been designed to appeal to owners and operators, office administrators, MicroMarket managers, and technicians. Participants will meet and learn from industry experts on technology, inventory management, unique selling practices and security best practices. This year's format includes smaller breakout sessions to promote a more intimate and engaging learning and training experience.
"The excitement in the industry is unmatched at the NAMA show and we are happy to add what we do best to the experience," said Hessling.
Those interested in attending the March 20th session can visit 365RetailMarkets.com/MEET2018 to register online.
Admission into MEET is free for current 365 Retail Market customers ($365 for non-customers). Participants are responsible for their own airfare and hotel.
About 365 Retail Markets
365 Retail Markets, a rapidly growing, self-checkout technology company with offices in Metro Detroit, Santa Clara, and Orem offers the best-in-class point of sale platform for use in the workplace. Its proprietary 365 MicroMarket is a turnkey, unmanned market that allows customers to increase sales, improve the customer experience, and increase profits while decreasing operating costs. 365 Retail Markets has been pioneering innovation in the foodservice, hospitality and vending industries since 2008, and continues to revolutionize the market with superior technology and ultimate flexibility in customization and branding. 365 has won many awards for their innovation and growth, including being named to the Inc. 5000 List Of Fastest-Growing Private Companies In The US two years in a row.
For more information about 365 Retail Markets, visit www.365retailmarkets.com. You can also join 365 Retail Markets on Facebook, Twitter, YouTube, and LinkedIn.
Contact:
Jen Tonio – Marketing Manager
365 Retail Markets
Jen.Tonio@365smartshop.com
---

| Home | Vending Technology News | More News | Vending Newsletter sign up | Questions? Contact us | email press release
Also see: Software Companies | Technology Companies | Micro Markets | Distributors | Machine Manufacturers | Vending Companies USA
VENDING YELLOW PAGES DIRECTORIES:
Call us at 1-800-956-8363 to POST YOUR COMPANY, or QUESTIONS?