LAI Games Offers 50% Off New Virtual Rabbids Rides Through October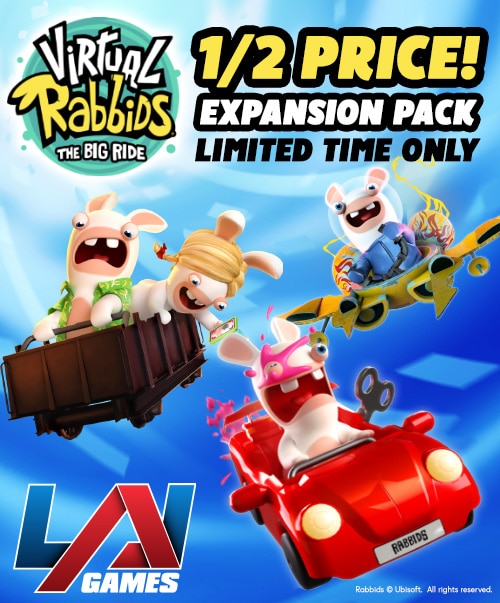 Dallas, September 16, 2020 – Leading manufacturer LAI Games announced that it is currently offering The Big Expansion Pack for Virtual Rabbids at half price. The Pack includes three new rides for the award-winning VR attraction, bringing the total to six thrilling experiences for guests. The promotion is part of Project Kickstart, an initiative created to assist the industry in its recovery from the financial impact of the global pandemic.
The Big Expansion Pack takes one of the top performing games in the industry and gives it double the appeal. More than just a software upgrade, it includes a new acrylic game header, premium signage to let guests know about the new rides and a complete media kit with marketing materials to promote the game. Not only do guests have 6 total rides to choose from, they can also experience the first interactive VR ride, Space Skirmish, where they blast their way through a fleet of Robo-Rabbids in an epic intergalactic adventure. The reduced price for The Big Expansion Pack runs through October 31, 2020.
Operators can see everything included in The Big Expansion Pack at laigames.com/virtual-rabbids-bigexpansion-pack. For more information on Project Kickstart, visit laigames.com/project-kickstart.
About LAI Games
LAI Games, a subsidiary of Helix Leisure, has been a leader in the interactive entertainment and game industry for over 60 years. The company develops, manufactures, and sells coin and card operated virtual reality, prize merchandising, video and ticket redemption games, photo booths and novelties. LAI Games is dedicated to bringing innovative and high incoming-producing games to the global market.
For more information, please visit www.LAIGames.com.
Follow LAI Games across all their social channels: laigames.com/social
---

Home | Vending Technology News | More News | Vending Newsletter sign up | Questions? Contact us | email press release
Call us at 1-800-956-8363 or POST YOUR COMPANY, GET NEW BUSINESS!