LAI Games HYPERpitch Wins AMOA Innovator Award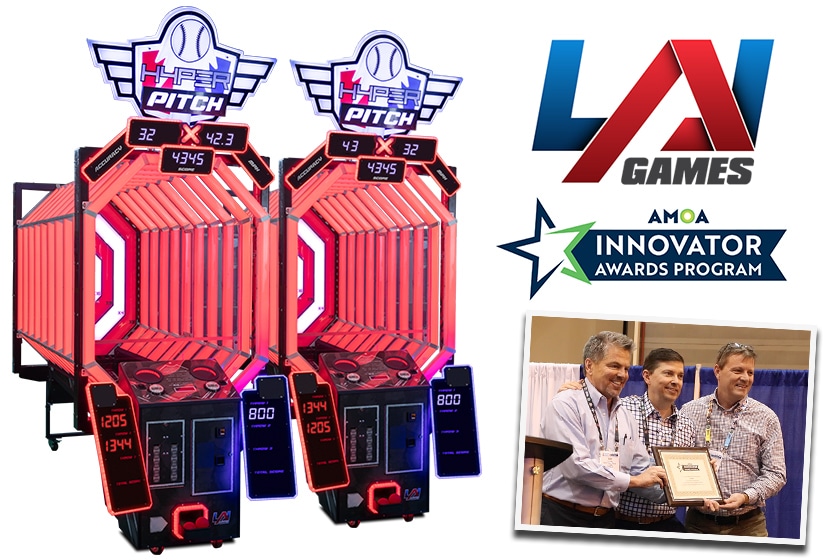 Dallas, March 12, 2020 – Premiere game manufacturer LAI Games has won the prestigious AMOA Innovator Award for HYPERpitch, the single or double-player baseball-style pitching game that challenges would-be major leaguers to compete for the fastest, most accurate throw.
With the Innovator Award, the AMOA recognizes the efforts of manufacturers and suppliers in bringing exciting new products to market for the amusement and entertainment industry. LAI Games has won the award for the previous three years as well for Virtual Rabbids: The Big Ride, Let's Bounce and HYPERshoot, and the Snapshot 2 photo booth.
"We consider the AMOA Innovator Award to be the premiere award in our industry, because it is voted on by operators," said LAI Games VP of Sales, Chris Brady. "It is an honor for HYPERpitch to be chosen this year."
HYPERpitch is a pure skill game featuring dynamic lights that chase the ball down the HYPER Tunnel while explosive sound effects create an incredible sensation of power as the ball hits the target. Realtime sports commentary adds to the fun, competitive atmosphere as each player gets three attempts to pitch a ball at the bullseye. It's an accessible, all-ages game that levels the playing field with its speed vs accuracy scoring system. Players with the most powerful throw aren't always champions in a contest where someone with better accuracy may come out on top, making the game challenging and rewarding no matter what level of skill a player has.
For more information and to view a video of gameplay, visit www.laigames.com/hyperpitch.
About LAI Games
LAI Games, a subsidiary of Helix Leisure, has been a leader in the interactive entertainment and game industry for over 60 years. The company develops, manufactures, and sells coin and card operated virtual reality, prize merchandising, video and ticket redemption games, photo booths and novelties. LAI Games is dedicated to bringing innovative and high incoming-producing games to the global market. For more information, please visit www.LAIGames.com.
Follow LAI Games on LinkedIn for more updates: https://www.linkedin.com/company/laigames
---

Home | Vending Technology News | More News | Vending Newsletter sign up | Questions? Contact us | email press release
Call us at 1-800-956-8363 or POST YOUR COMPANY, GET NEW BUSINESS!