Head of R&D for LAI Games Perfects Virtual Rabbids with D-BOX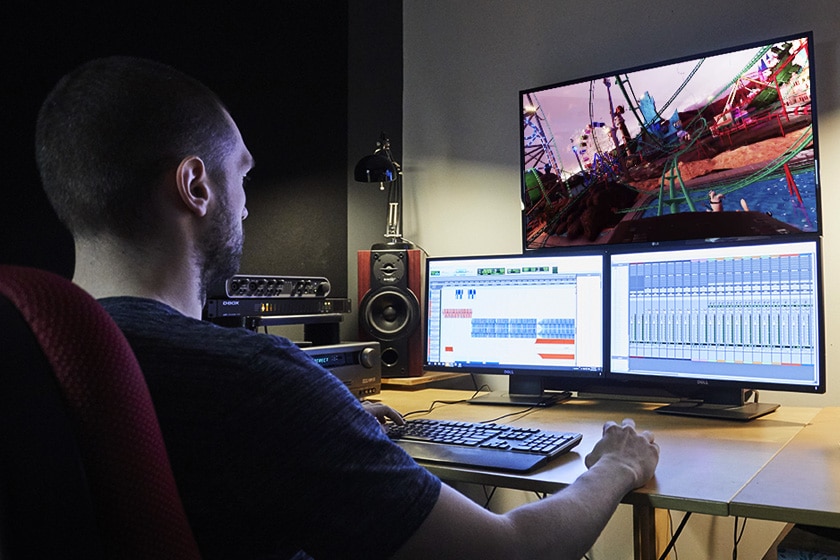 Dallas, August 19, 2019 – LAI Games VP of Research and Development, Shannon Perell, recently visited D-BOX world headquarters in Quebec, Canada to put the final touches on motion simulation for what has been named The Big Expansion Pack: the new content that will be available later this month for the hit VR attraction, Virtual Rabbids: The Big Ride. An industry-leading company that creates the motion base for a wide range of entertainment experiences, D-BOX worked with Perell to ensure that the motion of the seats is precisely timed with the new video experiences created by Ubisoft, the creators of the Rabbids brand and the team behind the original Virtual Rabbids rides.
When it comes to VR, the motion control system is a critical factor in player enjoyment and game performance. The sights, sounds, and movement all work together to trick the brain and create a suspension of disbelief. If the motion is not synced correctly with the audio-visual cues, the player's senses can't be properly tricked, or worse, it can make the player feel nauseous. After debuting the new Virtual Rabbids ride experiences at Bowl Expo earlier this summer to very positive reviews, the final step was to perfect the synchronization of the D-BOX motion system with the video. Perell worked closely with D-BOX motion designers to ensure the three new experiences create the same level of realism that helped make the original Virtual Rabbids one of the top games in the industry.
The Big Expansion Pack is more than a software upgrade. In addition to the three new ride experiences and the three original rides (six rides total), it will also include cabinet signage and marketing support materials to generate excitement and educate guests about the new content, plus a set of consumables to help keep the game in top condition for guests.
Get a sneak peek at the new content at www.laigames.com/games/virtual-rabbids.
About LAI Games
LAI Games, a subsidiary of Helix Leisure, has been a leader in the interactive entertainment and game industry for over 60 years. The company develops, manufactures, and sells coin and card operated virtual reality, prize merchandising, video and ticket redemption games, photo booths and novelties. LAI Games is dedicated to bringing innovative and high incoming-producing games to the global market.
For more information, please visit www.LAIGames.com.
Follow LAI Games on LinkedIn for more updates: https://www.linkedin.com/company/laigames
---

Home | Vending Technology News | More News | Vending Newsletter sign up | Questions? Contact us | email press release
Call us at 1-800-956-8363 or POST YOUR COMPANY, GET NEW BUSINESS!