500th Virtual Rabbids Unit Sold to Pizza Ranch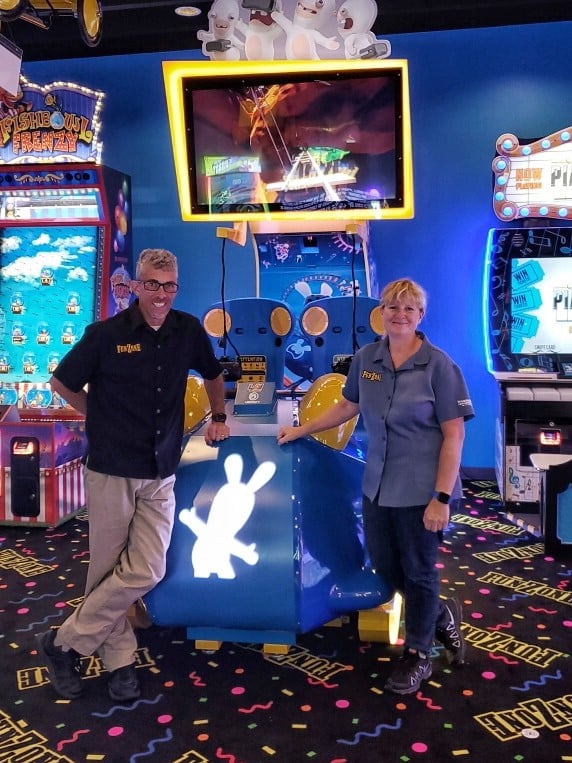 Dallas, June 21, 2019 – Leading game manufacturer LAI Games has achieved a milestone 500 sales of its top-earning virtual reality ride, Virtual Rabbids: The Big Ride. The unit was sold to Pizza Ranch in Casper, Wyoming, the second Virtual Rabbids to be installed in a Fun Zone Arcade for the regional restaurant chain.
Tim Mazzafero, Director of Operations for multiple Pizza Ranch franchises said, "After the success we experienced with Virtual Rabbids in our Billings, Montana location, earning over $50,000 in 10 weeks, adding a Virtual Rabbids to our Casper, Wyoming location was really a no-brainer! It's a great experience for our guests and really sets us apart. The Big Ride will definitely be a part of our future expansion plans."
With operators worldwide reporting similar results, it is no surprise to see Virtual Rabbids reach this milestone. In addition to being an easy to operate, unattended attraction that makes VR possible for every entertainment venue, LAI Games attributes the game's success to their collaboration with AAA rated video game developer, Ubisoft and their Rabbids brand. "Ubisoft's Rabbids have a universal appeal and humor that everyone can enjoy. We're fortunate to have partnered with a premiere game developer and an iconic brand to bring this wildly successful attraction to our industry," said Tabor Carlton, Marketing Director for LAI Games.
LAI Games recently announced it will debut three new ride experiences for Virtual Rabbids at Bowl Expo in Las Vegas, which will be available for purchase later this year.
For more information about Pizza Ranch, visit www.pizzaranch.com. For a sneak peek at the new content for Virtual Rabbids, visit www.laigames.com/games/virtual-rabbids.
About LAI Games
LAI Games, a subsidiary of Helix Leisure, has been a leader in the interactive entertainment and game industry for over 60 years. The company develops, manufactures, and sells coin and card operated virtual reality, prize merchandising, video and ticket redemption games, photo booths and novelties. LAI Games is dedicated to bringing innovative and high incoming-producing games to the global market. For more information, please visit www.LAIGames.com.
Follow LAI Games on LinkedIn for more updates: https://www.linkedin.com/company/laigames
---

Home | Vending Technology News | More News | Vending Newsletter sign up | Questions? Contact us | email press release
Call us at 1-800-956-8363 or POST YOUR COMPANY, GET NEW BUSINESS!