China Vending Machine Companies
CHINA Vending Machine Companies! Offering Vending Machines: Candy, Snack, Soda, Coffee Food, Frozen, Healthy, Touch Screen, Micro Markets, Coin-op Amusement Games, and more! Please contact these vending companies directo for more information about their vending machines, products and services.
Including: Altai, Beijing, Baotou, Chongqing, Chengdu, Chongqing, Dalian, Fuzhou, Guangzhou, Hong Kong, Jilin, Kashi, Korla, Lhasa, Nanchang, Nanjing, Macau, Qingdao, Shanghai, Tianjin, Wuhan, Xi'an, Yumen,
Also see: Vending Companies International, USA,
POST YOUR COMPANY-Get New Business!
Company/Website
CHINA Vending Machines Companies, Mfgrs
Photo/Logo
Contact Info
Bianchi Vending is now Changzhou Pilot Electronic Co., Ltd – We're the global manufacturer for coffee vending machines & beverage dispensers. Our exquisite machines with superior European quality are widely used in OCS & Ho. Re. Ca. market. We're the key supplier for Nestle, Kraft, Lipton & Coke, etc. We're looking for distributors worldwide! Your OEM & ODM are warmly welcome! Visit our website at: www.pilotvending.com

EXCELLENTCOM.net
founded in 1996. We are an trader offering an extensive range of related
Arcade Supplies
, which means we have everything you need when building your own arcade cabinet.
From Arcade Spare Parts to Original PC Board, PCB's, Kits, Amusement Machine, Cocktail Tables, Cables, Parts, Wires, etc
. We have it all under one roof – This combination offers a virtual game experience that is unbeatable!
Shipping from Hong Kong, China.
Guangzhou Light Industry Elec Co Ltd is One of The Best Vending Machine Manufacturer in China! We are good at combo vending machine, drink vending machine, adult toy vending machine, all of our vending machines come with online management system. We also can offer ODM and OEM vending machine service! Visit website: www.gzielec.com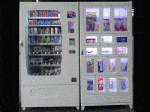 Happyline – Based out of Shanghai City, China. Distributors of vending machines equipment. Happyline is a specialized manufacturer of coffee and beverage vending machines. Contact Sophia Chen.
LE VENDING MANUFACTURING INC* – Your source for vending machine equipment and services, including a great selection of coffee vending machines,cold drink vending machines, snack vending machines, combination vending machines, dollar coin changers, bill validator and much more! Visit website:
Panda Vending
– We are a professional supplier of kiddie rides, coin equipment and various vending machines, located in Shanghai China, with our production bases in Guangdong, Shanghai and other inland cities in Northern China and Southern China.
Provending Machine Co., Ltd is a privately owned China company established in 2000. Provending is a leading China manufacturer and exporter of hot and cold beverage vending machines, snack vending, Food Vending Machines and other vending machines like condom vending machines, Popcorn Vending Machines, DVD vending machines , etc. We can also design new machines as your ideas. Provending currently exports to a large number of countries including Australia, Spain, Netherlands, Germany, Peru, Chile, Russia, etc.

Shanghai Vending Machines – Shanghai Happy Workers Intelligent Technology Co., Ltd with professional standards and mature technology in the field of automation, we have been a rising star company in manufacturing the vending machines. Our main products are Coffee vending machine, Combo snack and drink vending machine, Ice cream vending machine, Frozen food vending machine, Ice bag vending machine and so on. We are the only one company that can produce Ice coffee vending machine and Frozen vending machine in China.
Zhengzhou Tongchuang Electronic
Zhengzhou Tongchuang Electronic Co.Ltd.
is a professional manufacturer of vending machines, gaming machines, condom vending machine, gumball vending machine, scales vending machine, weight and height machines. Based out of Zhengzhou, China.
tel: 86-371-66622312
fax: 86-371-67515171
Also see: Suppliers Directory, Associations, Distributors, Manufacturers, Wholesale Snacks, Vending International, Classified Ads, Routes for sale, Trade Shows, News, Technology, Micro Markets, Home
POST YOUR COMPANY-Get New Business!